Manage your licenses
This documentation does not apply to the most recent version of Splunk. Click here for the latest version.
Contents
Manage your licenses
This topic discusses managing Splunk licenses. Before you proceed, you may want to review these topics:
Delete a license
If a license expires, you can delete it. To delete one or more licenses:
1. On the license master, navigate to Manager > Licensing.

2. Click Delete next to the license you want to delete.
3. Click Delete again to confirm.
Note: You cannot delete the last license in a list of licenses on a license master.
View license usage
You can monitor license usage with the deployment monitor app. The license usage page of the deployment monitor shows a wide range of historical information.
To learn about the deployment monitor generally, including how to set it up and how to find your way around in it, read "About the deployment monitor" in the Distributed Deployment manual.
The license usage page in the deployment monitor contains two charts: one that shows the cumulative MB of data per day by source type, and a histogram that shows MB of data received across selectable criteria, including source type, host, source, indexer, forwarder, and license pool: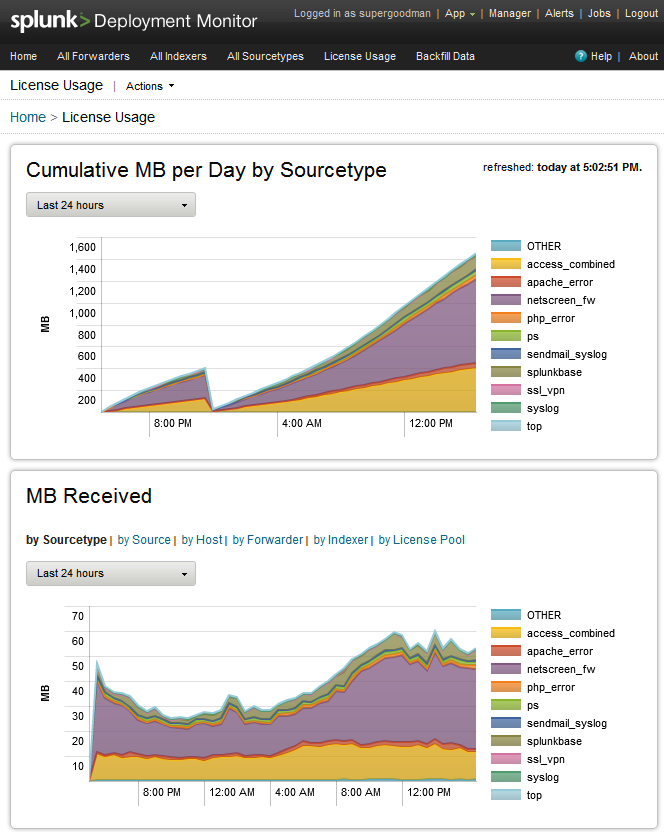 Further down the page, there's detailed information on usage statistics, with separate listings for several criteria, including sourcetype, host, source, indexer, forwarder, and license pool. For example, here's the usage listing by license pool: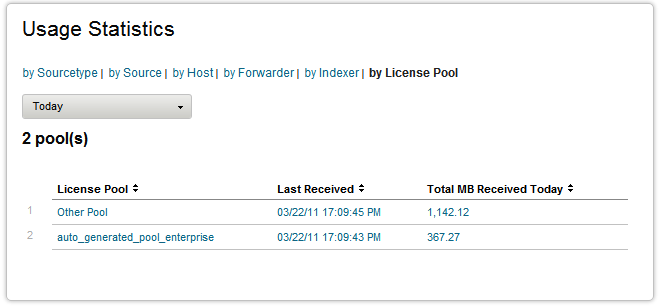 This documentation applies to the following versions of Splunk: 4.2 , 4.2.1 View the Article History for its revisions.