Download topic as PDF
Charter for the Splunk CoE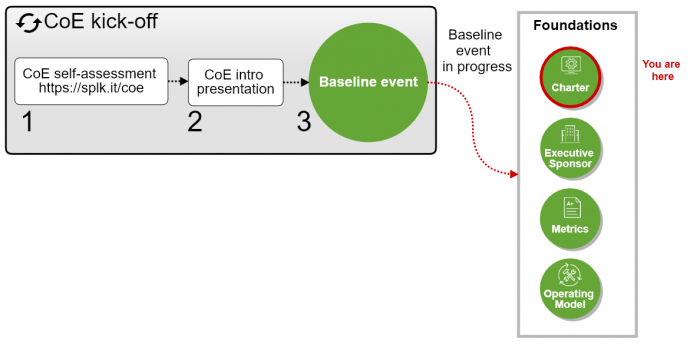 Defining a Charter helps you allocate resources, clarify expectations, and set overall goals. Creating a Charter is a straightforward process in which you identify the scope and governance structure for your CoE.
Guidelines for defining a Charter
Align goals with available time and resources

Building an ideal Center of Excellence is an ongoing process, and can take several implementation cycles to achieve your ultimate goals. The Charter will help you take logical steps so you can make smart decisions based on your time and resources.

Define a Charter that makes sense for your organization

The Charter considers internal or external factors specific to your organization. You have the option to centralize or de-centralize the CoE in any way that will best take advantage of your organization's resources.
Select a scope: Splunk as a solution, service, or strategy
A scope defines the point and purpose of the CoE's efforts and investments. Select a scope from the three options below.
| Mission Objective | Maturity | Purpose |
| --- | --- | --- |
| Splunk as a solution | Good | Splunk will address use cases for a single team, group, or purpose. |
| Splunk as a service | Better | Your Splunk team will provide Splunk-related services for multiple teams, groups, and purposes. |
| Splunk as a strategy | Best | Your Splunk team will provide mature services that position Splunk as a competitive differentiator for your business. |
Select a governance structure
How you organize your Splunk implementation defines general governance for your CoE. Choose one of the recommended governance models: centralized, federated, and hybrid.
| CoE Structure | Description |
| --- | --- |
| Centralized model | Concentrate Splunk engineering (hardware and people) into a central team with a single Splunk deployment. |
| Federated model | Teams operate their own independent Splunk deployments and projects. Program management provides best practice guidance and a forum for meetings to keep them coordinated. |
| Hybrid model | A mix of both centralized and federated where a critical mass of the Splunk activity is within a central team. Satellite deployments exist outside of the central team. |
Infrastructure requirements comparison chart
Consider what kind of infrastructure works best with the model you choose. Use the chart below to review the characteristics of each CoE model.
Infrastructure
Benefits
Challenges
Centralized model

A majority or the entirety of event data is stored on a common set of indexers
Users access a common search head or search head cluster

Good for small deployments
Event data is easily accessible and shared
Faster to get started and simple to set up
Allows for quick growth
Easier to manage deployment-wide search concurrency
Requires the least hardware

Effort is required to scale as more groups adopt Splunk and the number of use cases/number of users grows
Impacted by 'noisy neighbors'
"Noisy neighbors" can slow the system down

Federated model

Architecture may reflect independent operations of each team
Event data may be stored on separate pools or clusters of indexers
Different search heads may be allocated for users/departments that can access a subset or all of the indexers for search

Allows teams to manage their infrastructure independently under a common set of standards
Addresses scale issues
Good for very large organizations
Isolates "noisy neighbors"
Changes by one team have less risk of impacting other teams
Flexible infrastructure deployment options

Requires more coordination from the program manager
More complex to set up and manage
Managing deployment-wide search concurrency is more complex

Hybrid model

Dedicated indexers and search head(s) are set up for a use case or department
The search heads may have the ability to search other deployments

Simplified chargeback
Less complex to manage
A centralized team can still manage smaller groups or business units
A centralized operations team can provide Splunk as a Service
Federated customer teams can meet scale demands

Requires coordination for federated resources
The Operations team must be prepared to operated a large Splunk deployment
Requires the most hardware
Practical partitions of Splunk operations
Splunk operations fall into three practical partitions: program management, customer facing, and operations. These practical partitions help you assess your existing org structure.
Practical partition areas
Shared goals and responsibilities
Associated Splunk roles
Program management

Executive alignment for Splunk as a Service
Communication with Splunk stakeholders
Project management for Splunk customers and Operations teams

Architect
Executive sponsor
Program manager
Project manager

Customer facing

Work with consumers on data/user onboarding
Act as internal subject matter experts for creating searches and dashboards
Consult on customer use cases
Provide Help Desk support to end users
Run office hours and in-house training
Promote best practices to end users

Developer
Expert user or search expert
Knowledge manager

Operations

Responsible for architecture, deployment, and scaling of Splunk infrastructure
Manage day-to-day operation of Splunk instances
Perform server-side data onboarding tasks (e.g. set retention policy, access controls, add lookups, etc.)

Engineer
Knowledge manager
---