Download topic as PDF
Metrics for the Splunk CoE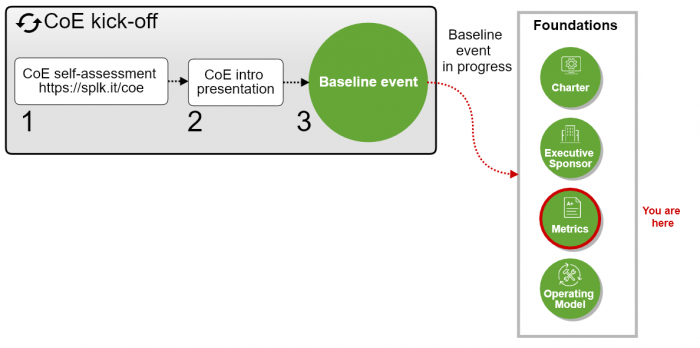 CoE metrics provide measurements of key performance indicators (KPIs), and help you gain insight into the effectiveness of your Splunk implementation. Metrics provide quantifiable and actionable data related to performance, so you can see where your strengths lie along with areas for improvement. Good metrics provide transparency to you and your stakeholders.
Benefits of a CoE metrics dashboard
Measure progress and achieve accountability

Once you have set your goals for growth and maturity, a CoE metrics dashboard provides you with a way to measure progress. A metrics dashboard will enable you to set quantifiable milestones with clear deadlines, so you can move toward your goals.

Avoid unnecessary data ingestion delays

A metrics dashboard will help you identify and troubleshoot roadblocks as you go through the data ingestion process. Metrics enable you to proactively discover unintended consequences so you can shift your approach and minimize the risk of over-engineering, or running into serious delays.
---