Download topic as PDF
Executive sponsor for the Splunk CoE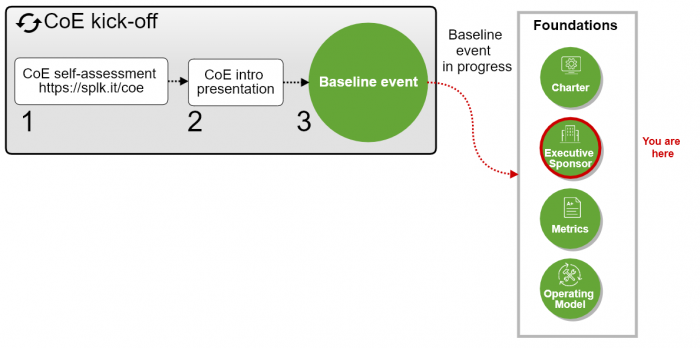 An executive sponsor helps you gain forward momentum and grants you access to the resources you need for growth. Without executive sponsorship, you may be confronted with resource limitations and potential roadblocks when trying to scale.
Benefits of executive sponsorship
Political endorsement

The executive sponsor provides guidance and support, brokers the CoE's benefits to partner organizations, and owns the CoE's return on investment.

Improved resources and investments

The executive sponsor budgets the resources you need for success, including people, hardware, and licensing.

Efficient use of time

The executive sponsor ensures time to focus on Splunk. The executive sponsor treats essential Splunk activities as a priority (such as support), and regards Splunk's CoE as a first-class offering within the organization.

Alignment with organization-wide vision and priorities

The executive sponsor ensures that the CoE is aligned with larger business or organization-wide priorities.
More resources
The following reference materials provide more information on the role of the executive sponsor, and why executive sponsorship has become standard protocol across several industries.
---