Download topic as PDF
Foundation areas for the Splunk CoE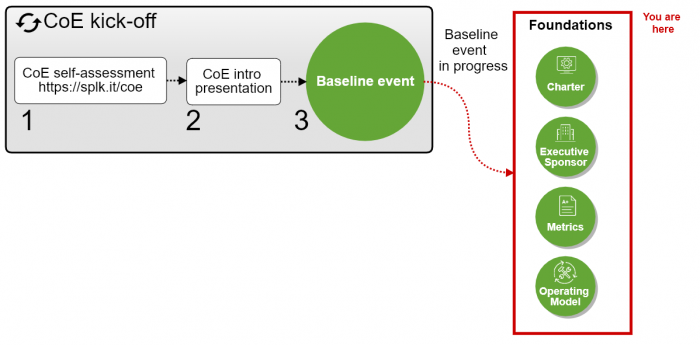 The Splunk Center of Excellence (CoE) foundations are decisions, agreements, and operating infrastructure that establish the purpose, goals, and ownership of your Splunk implementation to help you obtain maximum value with maximum efficiency. Like building a house, a strong foundation enables you to build as high as you need to go. A strong foundation ensures a better track record of success, and prepares you to handle situations as they arise.
Here is a brief overview of the four CoE Foundations. All Foundations are equally important. Learn more about each Foundation area using the links below.
| Foundation areas | Primary purpose | Jump to topic |
| --- | --- | --- |
| Charter | Decide whether to use Splunk as a solution, service, or strategy. Choose a centralized, federated, or hybrid governance model. | |
| Executive Sponsor | Identify an executive or senior leader who can provide resources and political endorsement. | |
| Metrics | Decide how to monitor the health of your deployment and measure success. | |
| Operating Model | Identify a program manager. | |
Benefits of CoE Foundations
CoE Foundations help you avoid the most common pitfalls

Without CoE Foundations, your deployment can encounter roadblocks to growth, or even worse, system or program failure.

CoE Foundations can evolve and change as you mature

Once you define CoE Foundations, you can update and adapt them as you mature your deployment. It's OK to make an initial choice now, and adopt a different approach at a later stage.
You complete Foundations during the baseline event with your Splunk account team. The next topics of the CoE handbook provide guidance on how to complete each Foundation area.
It is important that you to take the time to get the Foundations in place before building out your implementation plan. Building things out before the Foundations are in place often leads to issues and problems.
You can complete CoE Foundations in one hour or less. The CoE Foundations provide worksheets and templates that make establishing the Foundations a series of simple decisions.
If you have gaps in Foundations that will take longer to address, you can add the gaps to your implementation plan.
For more information about the baseline event and the implementation plan, see Schedule the baseline event.
---