Download topic as PDF
Splunk BucketList
BucketList is a Splunk community engagement and advocacy program for Splunk to get to know our users better and vice versa.
BucketList is just the place you've been looking for if you want to do things like:
Learn about new Splunk-related announcements
Give your feedback on a certain product or feature
Provide tips & tricks with other users in the community
Share cool Splunk content with your networks on social media
BucketList is all about growing your skills, getting recognized for your contributions to the Splunk Community, and directly engaging with Splunk addicts around the world.
The program awards users with points for completing challenges that involve the activities above, and more. This is a great way to get rewarded for all the awesome community efforts users accomplish outside of karma on Splunk Answers.
Earned BucketList points can be redeemed for any rewards listed on the Rewards page, including gift cards, donations to charity, and a ticket to our annual user conference, .conf.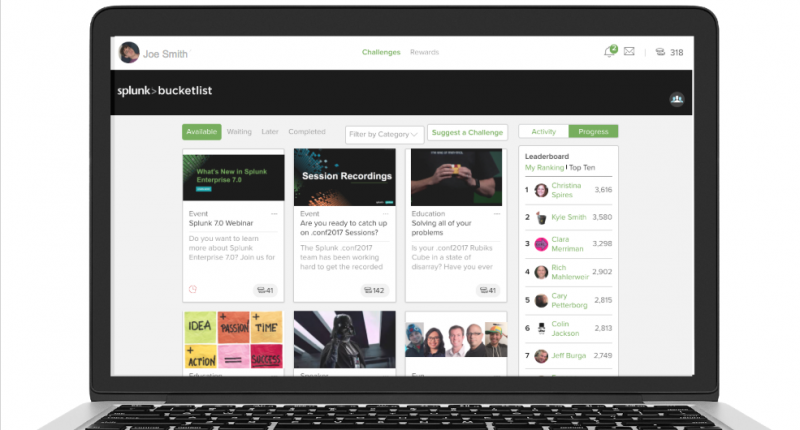 How does BucketList work?
When you visit https://bucketlist.splunk.com, log in with your splunk.com credentials since it's integrated with SSO - no new account creation necessary! If it's your first time visiting the site, you'll go through some welcome and introduction content before landing on the default Challenges page. You'll find tiles that each represent a challenge and a number of points you can earn upon completion.
Following these simple steps, you'll find yourself exchanging points for rewards in no time:
1. Accept a challenge – Challenges encourage you to learn new skills or help others in the Splunk community.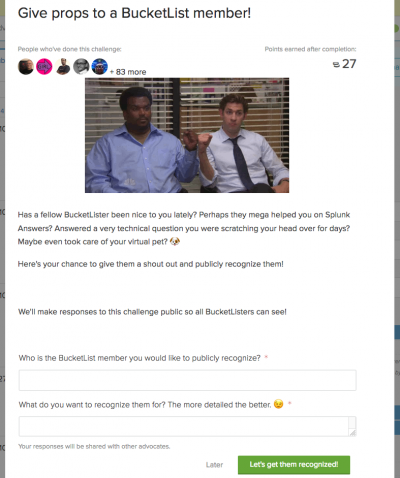 2. Be heard – Whether it's with our product team, Splunk executives, or on stage in front of the industry, BucketList is a platform for you to share your experience and voice with the world.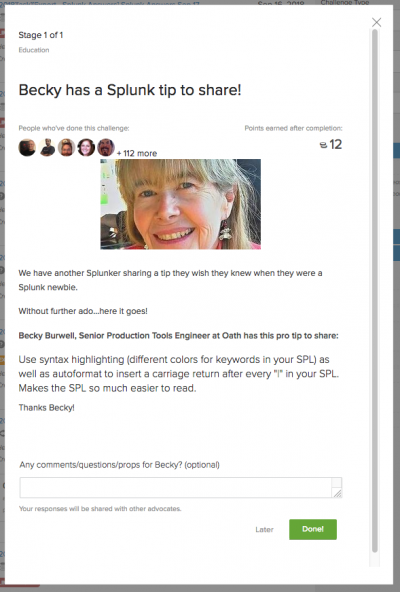 3. Earn and bank points – The more points you earn, the higher up the leaderboard you climb and the better rewards get!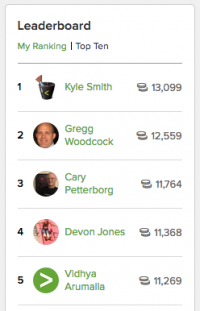 How do I learn more about the BucketList?
Visit the #bucketlist channel in the Splunk Community Chat on Slack where other BucketListers (aka BucketHeads) hang out and ask questions of their peers. It also serves as a space to report any issues you come across with the site, so we'd like to know those too and get them resolved as soon as possible.
If you are not a member of the Slack Community Chat group yet, you can send a request through https://splk.it/slack.
---