Download topic as PDF
What is the Splunk Dashboards app (beta)?
The Splunk Dashboards app for Enterprise provides a new workflow to easily build dashboards and customize visualizations in both single instances and distributed environments. The app introduces new features like drag and drop for objects on your dashboard, pixel-perfect control, and a highly customizable canvas background. The completely new visual editor allows you to add shapes, custom images, and icons to your dashboards and makes adding visualizations and creating searches in the form of data sources, available all in one place, making creating panels faster and more intuitive. As we release each version, more features will be added and the new framework will become more powerful, more capable, and more usable than the classic framework.

Unlike the Search & Reporting app, which uses Simple XML as source code, you will see that the source code for the new framework uses JSON-formatted stanzas for every aspect of the dashboard and visualization workflow. Since each stanza is seperate from the others, there isn't an overall hierarchy to follow, and you can more easily modify individual visualizations, searches, inputs, and the overall layout than was possible using Simple XML.
While you can import Simple XML dashboards to the app, many features will not yet translate, and you should only try this with simple dashboards. For example, you should not try to export dashboards that use JavaScript and CSS extensions. The app is most powerful when you create a dashboard within it.
After reading through the documentation, please feel free to reach out to our team for suggestions, requests for enhancement, things you like, things you don't like, and any bugs you might encounter. Your feedback is very valuable to us during this beta period. You can email the Splunk Dashboards app (beta) team at dashboards-beta@splunk.com.
Because the Splunk Dashboards is a beta application, in its current state, you will not find all of the features and visualizations available in Splunk Enterprise. Additionally, you can only use the source editor to set many options for visualizations, inputs, and the layout.
The following image is an example of a dashboard created using the Splunk Dashboards visual editor. It makes use of custom icons, user inputs, the ability to layer objects, a custom background image, and other new features.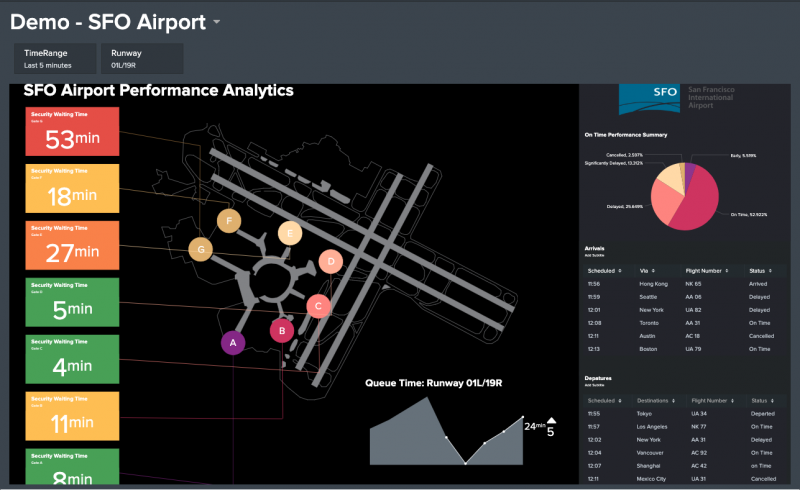 Last modified on 11 May, 2020
---