Download topic as PDF
Format a choropleth SVG
Before you begin to format your SVG visualization, make sure you are familiar with creating and formatting SVG images, as outlined in Generate a choropleth map.
If you want a step by step tutorial on creating your own SVG maps and connecting them to your Splunk data, see the blog, "Painting with Data: Choropleth SVG" at https://www.splunk.com/en_us/blog/tips-and-tricks/painting-with-data-choropleth-svg.html
Almost all configuration and formatting must be done in the source editor.
Prerequisites
You must upload your SVG locally; web-based images are not supported.
You can also view an SVG's markup structure here: https://jakearchibald.github.io/svgomg/
Connect your SVG with the Splunk Enterprise app
Follow the steps in the following procedure to connect the path id attributes to your SPL query.
If you would like to use the campus SVG map, you can download, unzip, and add this campus.svg image to your dashboard: Campus.zip.
Steps




Often, an SVG map will have extra meta-data that makes it very difficult to modify. You can use a free application like Inkscape to simplify the image data by saving the file type as an Optimized SVG.




Example
The following example is the lookup table for the campus image. When used with the table visualization, it shows the columns that map the path id to the fields of the same name in the table and their associated numerical values.
| inputlookup choropleth_campus.csv

If the Visualization Picker is used to change this visualization from table to Choropleth SVG, the following image is created (you may need to refresh your browser).
Source options for choropleth SVG
Choropleth SVG options
The following options are available for editing choropleth SVG visualizations in the source editor:
| Property | Type | Default | Description |
| --- | --- | --- | --- |
| SVG | string | N/A | KV store location of the SVG image. |
| backgroundColor | string | Light mode: "#FFFFFF". Dark mode: "#212527", | Specify, using a hex code, the background color behind the SVG map, title, and description. For example, "#0000FF" |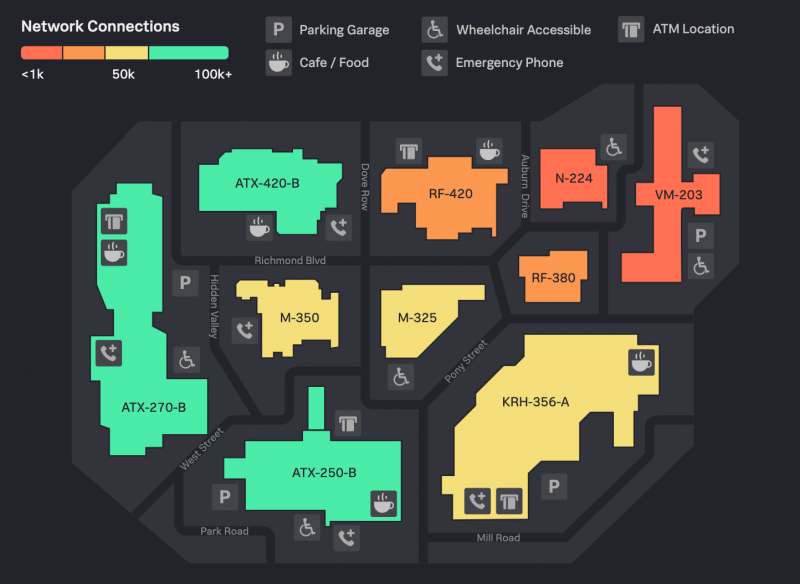 ---