This documentation does not apply to the most recent version of Splunk
®
IT Service Intelligence. Click
here
for the latest version.
Download topic as PDF
Predict and prevent outages with ITSI Predictive Analytics
ITSI Predictive Analytics uses machine learning algorithms to predict the health score value of a selected service. The models use historical service health score and KPI data to approximate what a service's health might look like in 30 minutes.
ITSI Predictive Analytics allows Splunk users of all skill levels to use machine learning technology. ITSI provides visualization tools that guide you through the process of creating machine learning models without having to learn complex machine learning algorithms and technology. Once your models are ready, ITSI makes it easy to obtain and use service health score predictions.
Use Predictive Analytics if you want to identify and fix service outages before they happen. By receiving a warning that your service is likely to degrade in the next 30 minutes, you can take steps to resolve the problem before it affects other areas of your system.
Use Predictive Analytics if:
You've had unplanned outages in the past.
You want to prevent future outages.
You want to understand and identify patterns in your service.
You want to understand how future outages can impact your business.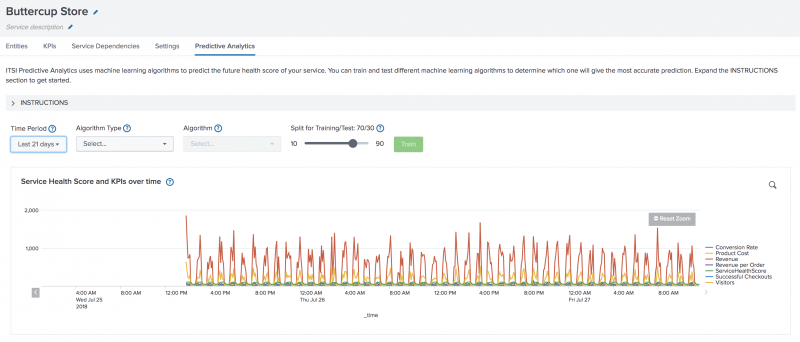 See also
---