This documentation does not apply to the most recent version of ITSI. Click
here
for the latest version.
Download topic as PDF
About ITSI modules
Splunk IT Service Intelligence (ITSI) modules are built from a collection of metrics, entities, and service configurations. For details on how these concepts are used in ITSI, see ITSI concepts and features. They help ITSI users understand and act on the data that comes from monitoring services within ITSI.
ITSI modules reduce time to insight and make your service data valuable. They provide entity discovery Key Performance Indicator (KPI) templates, metrics, and entity level drilldowns from your data. Each module contains a different framework of predefined metrics, entities, service configurations, and activity views.
ITSI modules process data collected through the use of Splunk add-ons. Add-ons collect host, network, and other data from computers that you install them on, and map that data to a data model. Add-ons power the data underlying metrics and entities of each module.
ITSI interacts with modules through configuration (.conf) files. ITSI consumes and processes these files and integrates the information across the app. For more information, see List of ITSI configuration files.
Discover which ITSI modules are installed
In ITSI, click Configure > Modules to view configuration information about the ITSI modules installed on your deployment.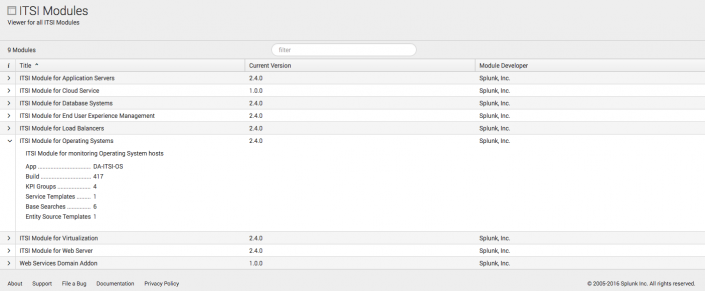 Module Builder
The Module Builder is deprecated in ITSI version 4.3.0 and will be removed in the next major release. See Removed features in Splunk IT Service Intelligence
The Module Builder lets you work with a particular domain and one or more associated technologies, and then create modules based on solutions, such as a module that monitors popular software suites and incorporates multiple technologies.
Build a module
On your ITSI deployment, navigate to Configure > Modules.
On the ITSI Modules page, click Create Module.
See the Develop your ITSI module on the Splunk developer portal to learn how to build a module for your domain.
---