Download topic as PDF
ITSI modules
Splunk IT Service Intelligence (ITSI) modules are built from a collection of metrics, entities, and service configurations. They enhance the ITSI usage experience by helping users understand and act on the data that comes from monitoring services within ITSI. For more information on ITSI modules, see ITSI Modules overview in the IT Service Intelligence Modules manual.
Get information about modules installed in your deployment
To get configuration information about the ITSI modules installed in your deployment, click Configure > Modules from the top menu bar.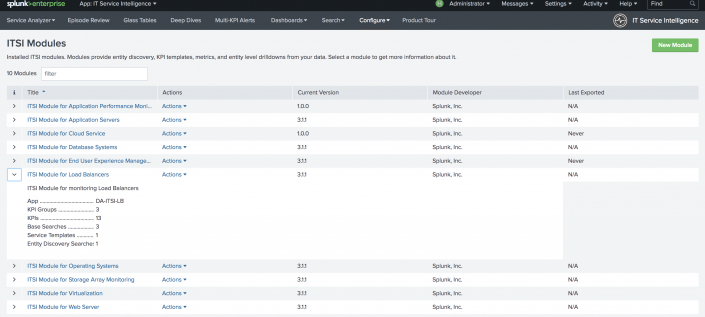 Module Builder
ITSI lets developers and customers build modules in Splunk IT Service Intelligence using tools built into the core ITSI application. The Module Builder lets you work with a particular domain and one or more associated technologies, and then create modules based on solutions, such as a module that monitors popular software suites and incorporates multiple technologies.
Build a module
On your ITSI deployment, navigate to Configure > Modules.
On the ITSI Modules page, click New Module.
See the Module Builder documentation on dev.splunk.com to learn how to build a module for your domain.
---