This documentation does not apply to the most recent version of Splunk
®
IT Service Intelligence. Click
here
for the latest version.
Download topic as PDF
Configure event lanes in a deep dive in ITSI
Event lanes in IT Service Intelligence (ITSI) deep dives display the number of occurrences of a specific event type over time. For example, an event lane might show the number of times an error appears in your data. Light bands represent times where there are no events, and dark bands represent times when there were one or more events. Event lanes also let you drill down to a Splunk search and view all events in a selected time bucket directly inside the deep dive.
The following deep dive shows an example of how event lanes can help you troubleshoot outages. As database service errors start coming in, the Database Service Response Time KPI begins to degrade, soon after which the entire service health score drops. Clicking an event band displays the actual associated events to give you more information about the outage: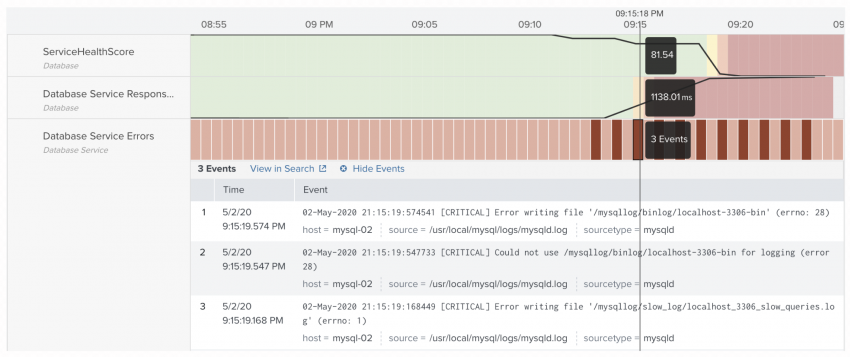 Prerequisites
You must have the write_itsi_deep_dive capability to add a swim lane to a deep dive. By default, the itoa_admin, itoa_team_admin, and itoa_analyst roles are assigned this capability.
Read and write access to services and KPIs is controlled by team permissions. When adding a new swim lane, you can only select from services to which you have read access. You cab;t perform bulk actions on lanes for which you don't have read access.
Steps
In the deep dive, select Add Lane > Add Event Lane.
Configure your new event lane.

Field
Description
Title
The title for your new event lane.
Subtitle (optional)
Additional info about your search and service.
Graph Color
The color for your event lane graph.
Lane Size
Adjust the size of the lane for easier viewing and analysis.
Event Search
The event search to display in the lane. For example, a search for Windows security events might be:

index=itsidemo sourcetype=wineventlog:security

Event searches can't contain reporting search commands, such as stats and timechart.

Click Create Lane. Your new event lane appears.
---