This documentation does not apply to the most recent version of Splunk. Click
here
for the latest version.
Download topic as PDF
Meet Splunk Web and Splunk Manager
Splunk Web is Splunk's dynamic and interactive browser-based interface. Splunk Web is the primary interface for investigating problems, reporting on results, and managing Splunk deployments. Refer to the system requirements for a list of supported operating systems and browsers.
Launch Splunk Web
Navigate to:

http://mysplunkhost:<port>

Use whatever host and port you chose during installation.
The first time you log in to Splunk with an Enterprise license, the default login details are:
Username - admin
Password - changeme

Note: Splunk with a free license does not have access controls, so you will not be prompted for login information.
Note: Starting in Splunk version 4.1.4, you cannot access Splunk Free from a remote browser until you have edited $SPLUNK_HOME/etc/local/server.conf and set allowRemoteLogin to Always. If you are running Splunk Enterprise, remote login is disabled by default (set to requireSetPassword) for the admin user until you change the default password.
Splunk Home
The first time you log into Splunk, you'll land in Splunk Home. There are two tabs at the top of the page: Welcome and Splunk Home. On the Welcome screen, there's an Add data button that takes you to a page with a list of data types that you can configure Splunk to index.
To see your installed apps, click on Splunk Home: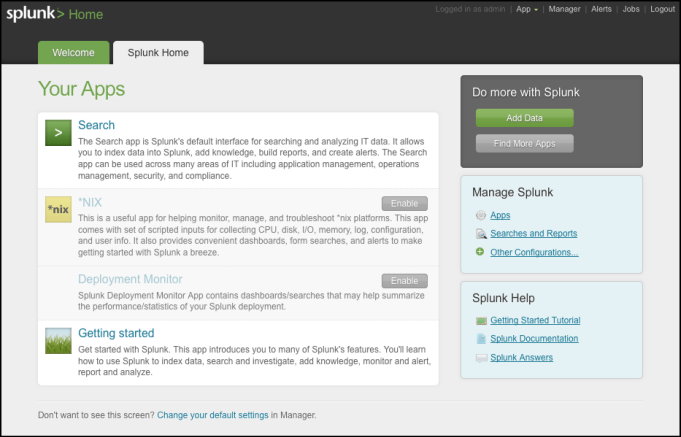 From this page, you can select an app from the list of apps currently available to you. To find more apps, click the Find More Apps button.
Read on for more information about apps.
Find Splunk Manager
Splunk Web provides a convenient interface for managing most aspects of Splunk operations, Splunk Manager. To access Manager, look for the link in the upper right corner of Splunk Web:

See "About Splunk Manager" for information on how to use Manager to configure Splunk.
---