This documentation does not apply to the most recent version of Splunk. Click
here
for the latest version.
Download topic as PDF
gauge
The gauge chart types enable you to see a single numerical value mapped against a range of colors that may have particular business meaning or business logic. As the value changes over time, the gauge marker changes position within this range.
The gauge command enables you to indicate the field whose value will be tracked by the gauge chart. You can define the overall numerical range represented by the gauge, and you can define the size of the colored bands within that range. If you want to use the color bands, you can add four "range values" to the search string that indicate the beginning and end of the range as well as the relative sizes of the color bands within it.
Read more about using the gauge command with the gauge chart type in the Chart Gallery's subtopic about Gauge.
Synopsis
Transforms results into a format suitable for display by the Gauge chart types.
Syntax
gauge [<num>|<field>]...
Arguments
num

Description: At least one real number, delimited by a space.
field

Description: The name of a field. The values of the field in the first input row is used.
Description
Each argument is either a real number or the name of a field. The first argument is the gauge value and is required. Each argument after that is optional and defines the range for different sections of the gauge. If you don't provide at least two range numbers, the gauge will start at 0 and end at 100. If an argument is a field name, the value of that field in the first input row is used. This command is implemented as an external python script.
Examples
Example 1: Count the number of events and display the count on a gauge with 4 regions, (0-750, 750-1000, 1000-1250,1250-1500).
index=_internal | stats count as myCount | gauge myCount 750 1000 1250 1500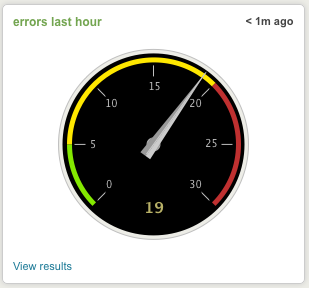 There are three types of gauges that you can choose from: radial, filler, and marker. You can see more examples of gauges in the Chart Gallery's subtopic about Gauge.
See also
Answers
Have questions? Visit Splunk Answers and see what questions and answers the Splunk community has using the gauge command.
---