This documentation does not apply to the most recent version of Splunk. Click
here
for the latest version.
Download topic as PDF
Splunk apps
When you use Splunk, you're experiencing it in the context of one or more apps. Each Splunk app is a collection of dashboards and views. Some of them are designed specifically to help you manage data in specific OS platforms or address particular business objectives.
At all times, when you're using Splunk, you're using a Splunk app. We refer to this as being "in" an app.
For more detailed information about Splunk and apps, see "What's an app?" in the Admin Manual.
Splunk Home and the Getting Started app
Unless your Splunk administrator has configured your Splunk deployment differently, the first time you install and log into Splunk, you'll see the Welcome to Splunk screen. Click on the green Splunk Home tab. Splunk Home shows you the list of apps that have been preinstalled for you and that you have permissions to see. By default, one of these apps is the Getting Started app. This app has been developed to introduce new users to Splunk's features. If you're new to Splunk, we recommend you check it out and give us your feedback!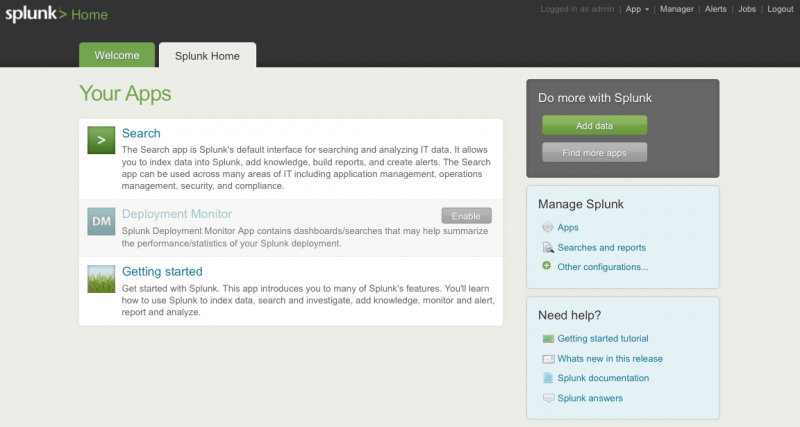 What else you get by default
Splunk also comes with the Search app and another app to support your OS by default.
The Search app provides an interface that provides the core functionality of Splunk and is designed for general-purpose use. If you've used Splunk before, the Search app replaces the main Splunk Web functionality from earlier versions. In the Search app you see a search bar and a dashboard full of graphs. When you are in the Search app, you change the dashboard or view by selecting new ones from the Views drop-down menu in the upper left of the window.
The Deployment Monitor app is disabled by default. Enable it to gain visibility into the performance of your Splunk instance.
If you want to change the app you're in, select a new one from the app drop-down menu at the top right: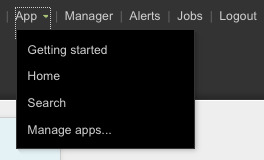 You can also return to Splunk Home and select another app from there.
Get more apps
You can add other apps to the list of apps in Splunk Home or in the Apps menu. For example, if the bulk of your data operations work involves tasks related to things like security, change management or PCI (Payment Card Industry) compliance, you'll be happy to know that Splunk has apps that specialize in helping you with them.
To find more apps to download, click the Find More Apps button on the right in Splunk Home.
Build apps to fit your needs
Splunk provides all the tools you need to create apps that answer the unique data management needs faced by your organization. You can design apps that have specialized dashboards and views and make them as simple or as sophisticated as you wish.
For more information about the nuts and bolts of Splunk app design and development, see the "Apps and add-ons: An introduction" in the Developing Dashboards, Views, and Apps for Splunk Web manual.
---
Comments