Splunk Enterprise version 5.0 reached its End of Life on December 1, 2017. Please see the
migration information
.
This documentation does not apply to the most recent version of Splunk. Click
here
for the latest version.
Download topic as PDF
View the peer dashboard
This dashboard provides detailed information on the status of a peer node. You can access versions of this dashboard from two locations:
On the peer node itself, as described in the topic you're now reading.
Access the peer dashboard
To view the dashboard for the peer node:
1. On the peer node, click Manager in Splunk Web.
2. In the Distributed Environment group, click Clustering.
You can only view this dashboard on a Splunk instance that has already been enabled as a peer.
View the dashboard
Here's how the peer's version of its dashboard looks: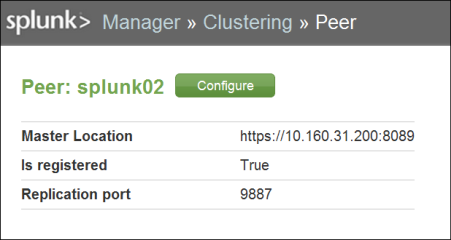 The dashboard provides information on the peer's status:
Master Location. The master node's IP address and port number.
Is registered. Is the peer registered with the master?
Replication port. The port on which the peer receives replicated data from other peers.
You will also notice a Configure button at the top of the dashboard. You can click the button to reconfigure the settings for the peer.
---