This documentation does not apply to the most recent version of Splunk. Click
here
for the latest version.
Download topic as PDF
Creating dashboards and dashboard panels
This topic walks you through saving a search as a dashboard panel and editing the panel to add panels from saved reports.
Save a search as a dashboard panel
1. Run the following search:
sourcetype=access_* status=200 action=purchase | top categoryId
2. Click the Visualizations tab and select the Pie Chart type.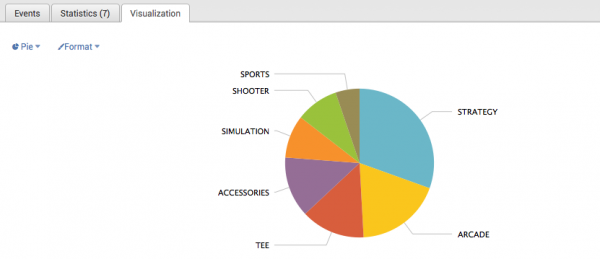 3. Click Save as and select Dashboard Panel.

The Save as Dashboard Panel dialog box opens.
4. Define a new dashboard to save the panel to:
4.1. For Dashboard, click New.
4.2. Enter the Dashboard Title, "Buttercup Games Purchases", The Dashboard ID updates with "Buttercup_games_purchases".
4.3 (Optional) Add a Dashboard Description, "Reports on Buttercup Games successful purchases data".
5. Define your dashboard panel:
5.1. Type in the Panel Title, "Top Purchases by Category"
5.2. Leave the Panel Powered By as Inline search.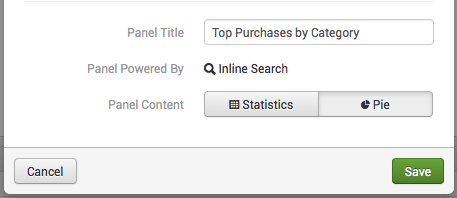 6. Click Save.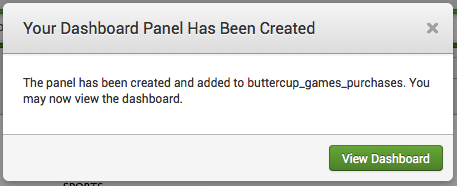 The dashboard was created.
7. To continue, click View dashboard.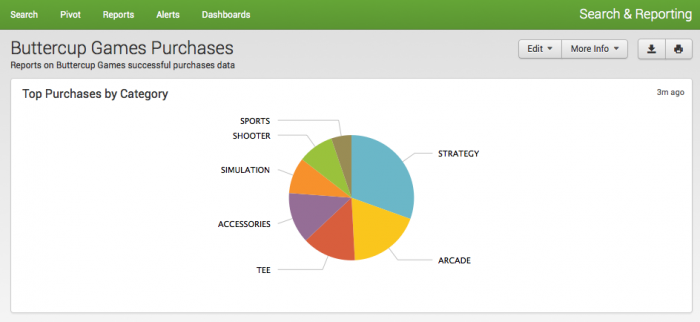 View and edit dashboard panels
After you save a dashboard, access it by clicking Dashboard in the app navigation bar.
This takes you to the Dashboards listing page. You can Create a new dashboard and edit existing dashboards. You see the Buttercup Games Purchases dashboard that you created.


Click on the arrow under the i (information) to see more information about the dashboard: What app context it is in, whether or not it is scheduled, and its permissions.


You can use the quick links that are inline with the information to edit the dashboard's Schedule and Permissions.
Add a saved report to the dashboard
1. Go back to the Buttercup Games dashboard.
2. Under Actions for Buttercup Games Purchases, click Edit and select Edit Panels.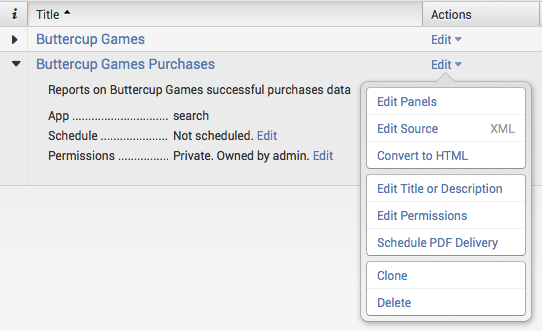 3. Click Add Time Range Picker and leave the default as All time.
This time range picker lets you to restrict all the inline searches that power the panels to the same time range.

Add the another panel using one of the saved reports you created earlier:
3. Click Add Panel.
The opens the Add Panel dialog box opens.
4. For Content Type, click "Report" and select a saved report from the list, Comparisons of Views, Adds to Cart, and Purchases.
5. Enter the Content Title, "Views, Adds to Cart, and Purchases".
6. Click Add Panel.
When you return to the dashboard you see two panels: "Top Purchases by Category" and "Views, Adds to Cart, and Purchases".
While in the Edit Panels view, you can drag and drop a panel to rearrange it on the dashboard.
7. Click Done.
Your dashboard should look like this:
Next steps
This completes the Search Tutorial.
---