This documentation does not apply to the most recent version of Splunk. Click
here
for the latest version.
Download topic as PDF
About distributed search
Important: Before reading this manual, you should be familiar with the fundamentals of Splunk Enterprise distributed deployment, as described in the Distributed Deployment Manual.
In distributed search, a Splunk Enterprise instance called a search head sends search requests to a group of indexers, which perform the actual searches on their indexes. The search head then merges the results back to the user. In a typical scenario, one search head manages searches on several indexers.
Use cases
These are some of the key use cases for distributed search:
Horizontal scaling for enhanced performance. Distributed search facilitates horizontal scaling by providing a way to distribute the indexing and searching loads across multiple Splunk Enterprise instances, making it possible to search and index large quantities of data.
Access control. You can use distributed search to control access to indexed data. In a typical situation, some users, such as security personnel, might need access to data across the enterprise, while others need access only to data in their functional area.
Managing geo-dispersed data. Distributed search allows local offices to access their own data, while maintaining centralized access at the corporate level. Chicago and San Francisco can look just at their local data; headquarters in New York can search its local data, as well as the data in Chicago and San Francisco.
Distributed search components
The Splunk Enterprise instance that does the searching is referred to as the search head. The indexers that participate in a distributed search are called search peers.
A search head by default runs its searches across all its search peers. You can limit a search to one or more search peers by specifying the splunk_server field in your query. See "Search across one or more distributed servers" in the Search manual.
You can run multiple search heads across a set of search peers. To coordinate the activity of multiple search heads (so that they share configuration settings, search artifacts, and job management), you need to enable search head pooling.
This diagram shows a simple distributed search scenario for horizontal scaling, with one search head searching across three peers: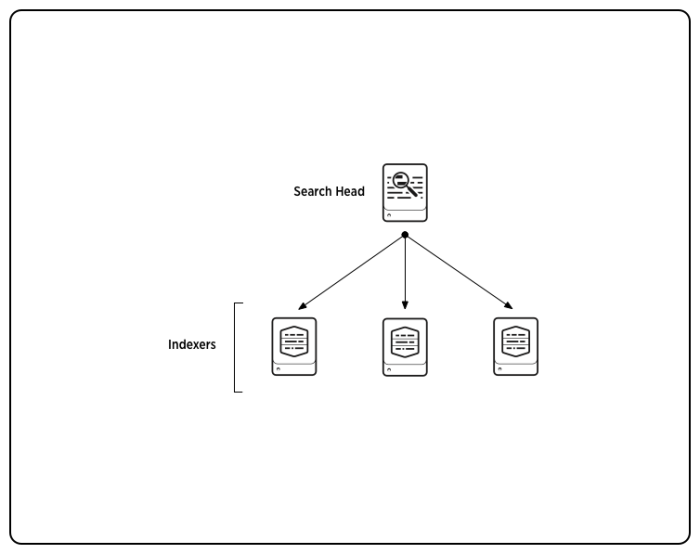 Search heads and clusters
In index replication, clusters use search heads to search across the set of indexers, or peer nodes. You deploy and configure search heads very differently when they are part of a cluster. To learn more about search heads and clusters, read "Configure the search head" in the Managing Indexers and Clusters Manual.
Last modified on 02 March, 2016
---