This documentation does not apply to the most recent version of Splunk. Click
here
for the latest version.
Download topic as PDF
The Splunk bar, which is the black bar at the top of Splunk Web, gives you answers to these questions:
What other pages are there in Splunk Web?
How do you view or change the system configurations?
How do you edit account settings or log out?
This topic discusses how to use the Splunk bar to navigate Splunk Web.
Use the Splunk bar
The Splunk bar lets you navigate your Splunk instance. It is common to every page in Splunk. You can use it to switch between apps, manage and edit your Splunk configuration, view system-level messages, and monitor the progress of search jobs.

Return to Splunk Home
Click the Splunk logo on the navigation bar to return to Splunk Home from any other view in Splunk Web.
The Apps menu lists the apps that you have permission to view and run. You can Find more apps and Manage apps from this menu.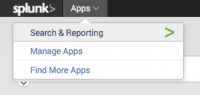 The Settings menu lists the configuration pages for Knowledge objects, Distributed environment settings, System and licensing, Data, and Authentication settings. If you don't see some of these options, you do not have the permissions to view or edit them.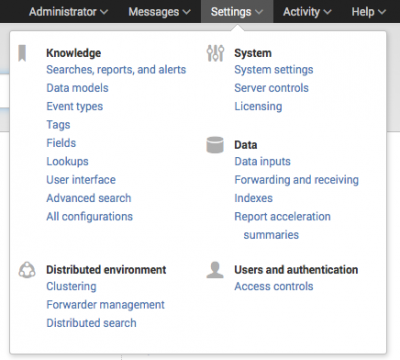 The User menu here is called "Administrator" because that is the default user name for a new installation. You can change this display name by selecting Edit account. You can also change the time zone settings, select a default app for this account, and change your password. The User menu is also where you Logout of Splunk.

All system-level error messages are listed here. You see a notification (in red) when there is a new message to review. Click the X to remove the message.

The Activity menu lists shortcuts to the Jobs, Triggered alerts, and System Activity views.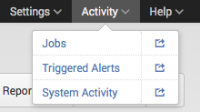 Click Jobs to open the search jobs manager window, where you can view and manage currently running searches.
Click Triggered Alerts to view scheduled alerts that are triggered. This tutorial does not discuss saving and scheduling alerts. See "About alerts" in the Alerting Manual.
Click System Activity to see Dashboards about user activity and status of the system.
Help
Click Help to see links to Video Tutorials, Splunk Answers, the Splunk Support Portal, and online Documentation.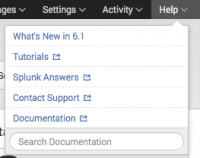 Next steps
Now that you are more familiar with Splunk Web, add some data to Splunk Enterprise.
---