This documentation does not apply to the most recent version of Splunk. Click
here
for the latest version.
Download topic as PDF
Upload data
This feature does not work in Internet Explorer version 9.
While Internet Explorer version 9 is a supported browser for Splunk Web, due to issues with compatibility, the "Upload Data" feature does not work in this version.

To access this feature in IE, use version 10 or later.
This topic explains the page that Splunk Enterprise loads when you select the "Upload" button on the "Add data" page.
The "Upload" page
When you access the "Upload" page, Splunk Enterprise presents you with the following: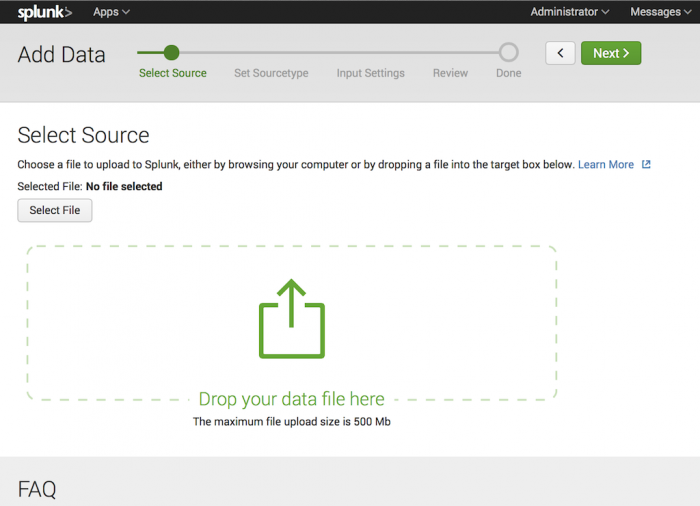 This page lets you upload data to Splunk Enterprise using one of the following methods:
Drag the file you want Splunk Enterprise to index directly from your desktop and drop it into the "Drop your data file here" area on the page.
or
In the upper left corner of the screen, click the "Select File" button to bring up a dialog box where you can select the file that you want Splunk Enterprise to index.
Splunk Enterprise then loads the file and processes it, depending on what type of file it is. Once it has completed loading, you can then click the green Next button on the upper right to proceed to the next step in the "Add data" process.
Last modified on 22 April, 2015
---