This documentation does not apply to the most recent version of Splunk. Click
here
for the latest version.
Download topic as PDF
Install a license
This topic discusses installing new licenses. You can install multiple licenses on a Splunk platform license master. Before you proceed, you might want to review these topics:
For information about upgrading an existing license, see Migrate to the new Splunk licenser in the Installation Manual.
Add a new license
To add a new license:
1. Navigate to Settings > Licensing.
2. Click Add license.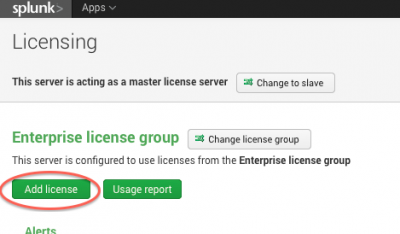 3. Either click Choose file and browse for your license file and select it, or click copy & paste the license XML directly... and paste the text of your license file into the provided field.
4. Click Install. If this is the first Enterprise license that you are installing, you must restart Splunk Enterprise. Your license is installed.
---