This documentation does not apply to the most recent version of Splunk. Click
here
for the latest version.
Download topic as PDF
About the Distributed Management Console
What is the Distributed Management Console?
The Distributed Management Console (DMC) is the Splunk Enterprise monitoring tool. It lets you view detailed topology and performance information about your Splunk Enterprise deployment.
The available dashboards provide insight into the following areas of your deployment or instance:
search performance and distributed search framework
indexing performance
operating system resource usage
Splunk app key value store performance
search head and indexer clustering
index and volume usage
forwarder connections and Splunk TCP performance
HTTP Event Collector performance
and license usage.
The DMC dashboards use data from Splunk Enterprise's internal log files such as metrics.log, as well as data available from Splunk Enterprise platform instrumentation.
Find the Distributed Management Console
From anywhere in Splunk Web, click Settings, and then click the Distributed Management Console icon on the left.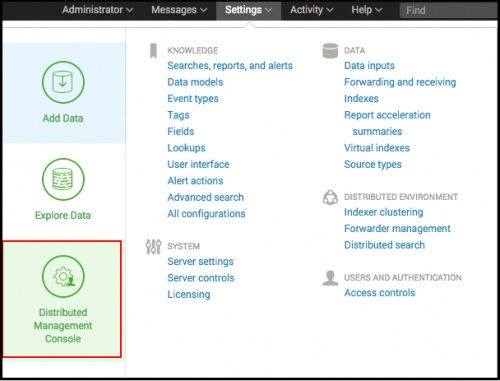 DMC is visible only to users with the Splunk Enterprise admin role.
---