This documentation does not apply to the most recent version of SplunkCloud. Click
here
for the latest version.
Download topic as PDF
Upload data to a heavy forwarder for Splunk Cloud
The Upload page lets you specify a file to upload directly to your Splunk heavy forwarder instance from your computer.
Note: Windows Event Log (.evt) and Windows Event Log XML (.evtx) files that have been exported from another host do not work with the upload feature. This is because those files contain information that is specific to the host that generated them. Other hosts won't be able to process the files in their unaltered form.
The Upload page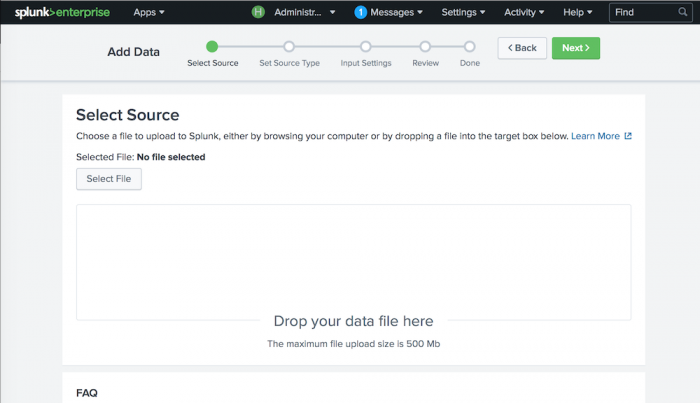 You can upload data through one of the following methods:
Drag the file you want to index from your desktop to the "Drop your data file here" area on the page.
In the upper left of the screen, click Select File and select the file that you want to index.
The forwarder then loads the file and processes it, depending on what type of file it is. After it has completed loading, click the green Next button on the upper right to proceed to the next step in the Add data process.
Next steps
---