On October 22, 2021, Splunk Light will reach its end of life. After this date, Splunk will no longer maintain or develop this product.
Download topic as PDF
Use dashboards in Splunk Light
Dashboards contain panels that display data visualizations such as charts, tables, event lists, and maps. Each dashboard panel uses a base search to provide results for the visualizations, or uses searches referenced from reports. When you run a search, you can save it as a report, and add it to a dashboard.
A form is a dashboard with user inputs to the search, such as a drop-down list, buttons, or a text box. A form has the same options for panels and visualizations that are available for dashboards.
You can build and edit dashboards using the Splunk Web dashboard editor, which is the user interface in Splunk Light, and edit dashboards using Simple XML source code.
Dashboard creation workflow
To create a dashboard or form, use the following workflow.
Add content. Create searches that power dashboards, save searches as reports, or create panels for reuse.
Design the user interface. Create and modify dashboards using panels, forms, and visualizations.
Add interactivity (Optional). Add interactivity to dashboards with forms.
Customize the dashboard. Add custom features to your dashboard.
Example dashboard
The following is an example of a dashboard in Splunk Light. Six panels with visualizations represent searches or reports that make up the dashboard.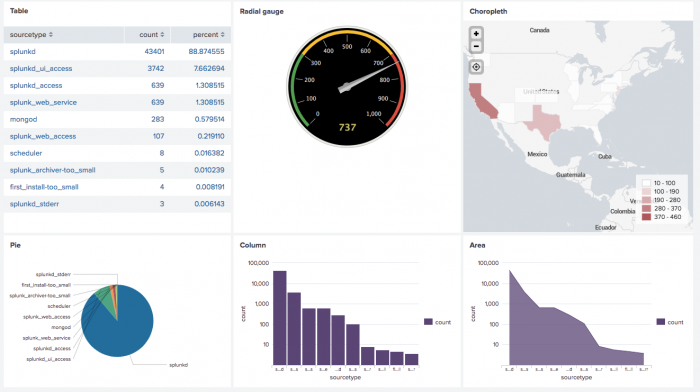 ---