On October 22, 2021, Splunk Light will reach its end of life. After this date, Splunk will no longer maintain or develop this product.
Download topic as PDF
Upload a file to Splunk Light
Use Upload to get data in when you want to index the data once. The data source can be a static file, such as a CSV file, or an archive of historical data.
1. Go to the Splunk Light Search view.
The Data panel is located under the search bar and to the right.
2. Under Data, click Add Data.
3. In the Add Data view, click Upload.


4. Click Select File to browse for your CSV file, or drag-and-drop the file into the outlined box.
The following screenshot shows the file "all_month.csv", which is a csv file of earthquake data.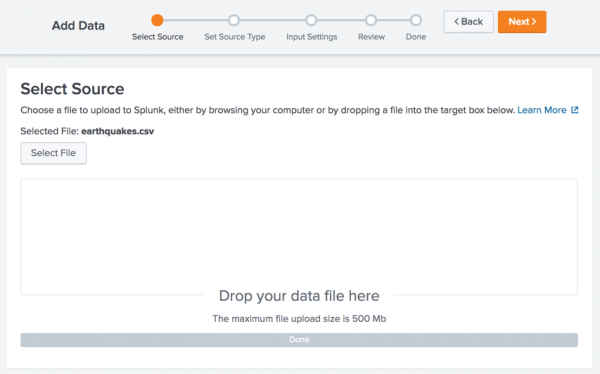 5. Click Next.
6. (Optional) Review your data in the Set Sourcetype view.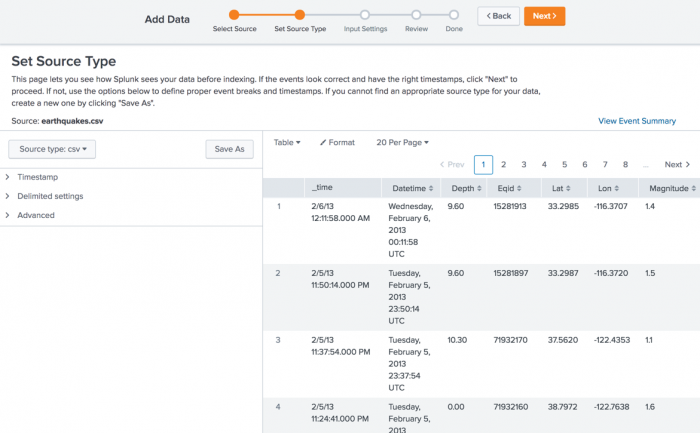 7. Click Next.
8. Use Input Settings to customize the host and index values.
9. Click Next to Review your input.
10. Click Submit.
---