On October 22, 2021, Splunk Light will reach its end of life. After this date, Splunk will no longer maintain or develop this product.
Download topic as PDF
Update your Splunk Light license
Update your Splunk Light license or add a new license to:
Convert from a trial or free license to a paid license.
Convert from a trial to a free license.
Expand the indexing capacity of an existing license.
Extend the term of an existing license, including a paid or free license.
Reset an existing license.
Add a license
1. Open the sidebar menu and select System > Licensing.
The following screenshot shows the Licensing page for an instance running Splunk Light Trial.
2. Click Add License.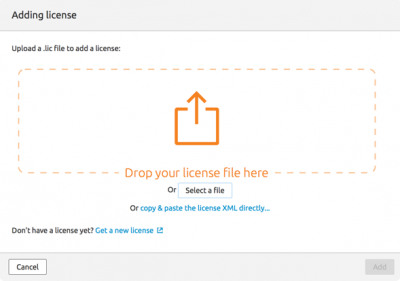 3. Add your license.
There are a few options for adding a license:
Drop a new license file into the Drop your license file here box.
Click Select a file to select your new license file to upload.
Click copy & paste the license XML directly... to drop an XML text file into the dialog.
If you do not have a license and want to purchase a Splunk Light license or renew your Splunk Light Free license, click Get a new license and you are redirected to the Splunk e-store.
4. Click Add or Upgrade, depending on the license you are adding.
5. Click Restart Now, as you must restart your Splunk Light instance to activate your new license.
6. After the restart is successful, click OK to log back into Splunk Light.
7. Log into Splunk Light to start using your new licensed version.
To see your new license information, use the sidebar menu and navigate to System > Licensing and your new license information is displayed.
---