Download topic as PDF
Submit content to Splunkbase with the web UI
The user account that you use to submit your content becomes the account that owns the app. Log in to that user account to respond to questions and manage Splunkbase content.
Navigate to https://splunkbase.splunk.com/develop/ and click Submit Your App.
Review and agree to the Splunk Apps Developer Distribution License.
You are now on the Hosting page.
Host your content
The hosting page is the first step in submitting your content to Splunkbase.
To upload content to Splunkbase, select one of the following methods:
Hosted on Splunkbase.
Hosted Externally (also known as a directory listing).
Host your content on Splunkbase
1. Upload your content package to Splunkbase by selecting one of the following methods:
Drag your content package into the designated Drop package here area on your screen.
Click Choose file, and select your content package from your system.
See the instructions in Package and publish a Splunk app to make sure you include an icon, screenshot, and other content for display on Splunkbase.
2. Optionally, enter Release Notes text.
3. Click a box to select Splunk Version compatibility.
Select the checkboxes for the versions of the Splunk Enterprise product with which your app or add-on is compatible. Test to ensure that your app or add-on functions as you want it to with the versions of Splunk Enterprise that you select.
Content marked compatible with Splunk Enterprise 7.x and below must be Python 2.7-compatible only, while content marked compatible with Splunk Enterprise 8.0 must be Python 3.7-compatible only. Content marked compatible with Splunk Enterprise 7.x and 8.0 must be compatible with both Python 2.7 and 3.7.
For more information about Python compatibility, see Python 3 migration.
4. If your content contains prebuilt data inputs (dashboards, inputs, and alert actions), select them in App Contents.
5. Select CIM compatibility. See the Splunk Common Information Model add-on manual.
6. Click Continue.
Host your content externally
1. Enter the URL to the site where your content is hosted in the External Site URL field. The URL can be any location from which you will serve your content.
2. Click Continue.
3. Click Submit to submit your content for review.
4. To add or modify an icon for your content, see Change content icons.
Describe your content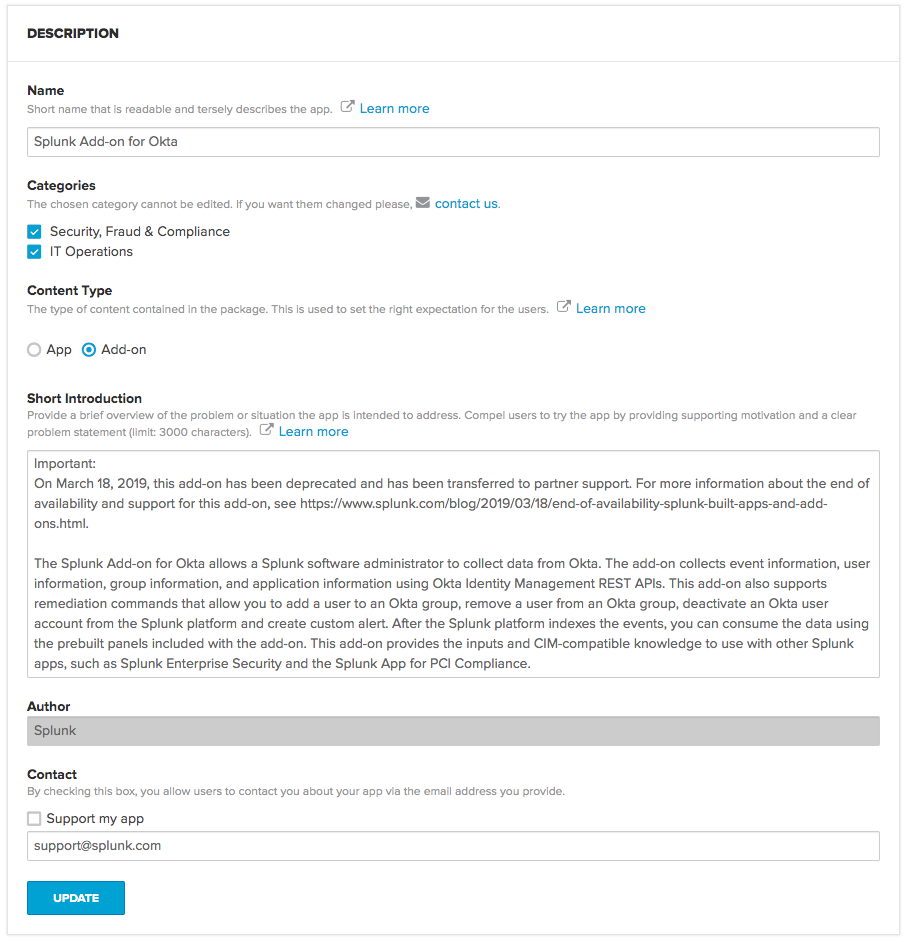 1. Choose a Name for your content.
If you have chosen a product name in $APP_HOME/default/app.conf within your content (per Package and publish a Splunk app on the Splunk developer portal), this will populate.
See "Naming conventions for apps and add-ons in Splunkbase" for specific guidance on naming.
2. Select a maximum of two relevant categories.
When you submit content to Splunkbase, identify the type of problem it solves and what type of content it is. Learn more about how to categorize your content.
If your content does not fit into any of the available categories, send an email to splunkbase-admin@splunk.com with a new category name for inclusion.
3. Select whether your content type is an App (Out of the box application) or Add-on (Requires Additional Customization). Learn about content types.
For information about apps, add-ons, and how to build them, see Apps and add-ons in Developing Dashboards, Views, and Apps for Splunk Web.
4. Type a short introduction to help users know whether this is the content they want or need.
5. (Optional) Choose to provide a contact for developer support, and enter an email address. For more information, see App support types.
6. Click Continue.
Settings
Select a license under which you make this content available to the public. You can designate your own end-user license, or you can choose the default Splunkbase Developer Distribution License.
Access guidance on choosing an Open Source license for your content at Choose A License.
For details about the available licenses, see "Monetize and license your content".
Select one of the following access options:
Unrestricted (Free Download)
Restricted (Requires additional information).
Restricting your content means:
When your content is approved and published on Splunkbase, the Download button on your product page will send users to a URL that you provide and maintain.
You must either use the Splunkbase Entitlement API to tell Splunkbase which users can download your content, or you can specify them on the "'Edit App"' page for your content.
Unrestricted access level
1. Enter your License name.
2. Enter your License URL.
3. Click Continue.
Restricted access level
1. Enter your License name.
2. Enter your License URL.
3. Enter an Inquiry URL.
The Inquiry button on your content's page on Splunkbase redirects users to the inquiry URL. The URL you specify should take users to the payment processing website (if your content has a price) or to otherwise interact with you in exchange for access to your content.
4. (Optional) enter a Button Label.
By default, the button label is '"Contact Sales"'. You can change it to read "Request access" or "Purchase", or other information to let the user know that they must go through additional steps before they can download your content.
5. (Optional) Enter a Price Label. Include the price for your content here. If your content is free, type "Free".
6. (Optional) Click the The package contains encrypted code box.
If your app or add-on contains encryption code, there may be legal implications around making it available for download in certain countries. You must have an Export Control Number (ECN) issued by the U.S. Department of Commerce. Additionally, you must attach an ECCN/ERN document to your content submission. Check the box to see options for uploading this document. Contact Splunkbase Admin if you have questions.
7. Click Continue.
Submit your content
Before you click submit:
Review your content package. You cannot make revisions to your content after submission, so make sure that your package is complete.
(Optional) Select Schedule Release Date to choose a date and time in the future when you want your content to be released.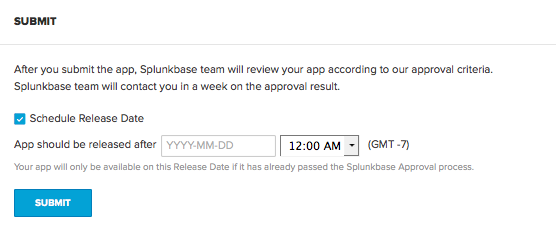 Click Submit to submit your app.
The Splunkbase team will send you an email confirming receipt of your app or add-on. After review, you receive an email saying that your content is either approved, or there is a problem with your submission.
To change your host to an external site, transfer ownership of your content, or to delete your content, send an email to Splunkbase Admin.
Last modified on 22 October, 2019
---