Download topic as PDF
Use the Content Pack for Monitoring Citrix
After you install and configure the Content Pack for Monitoring Citrix, your Service Analyzer should look something like this: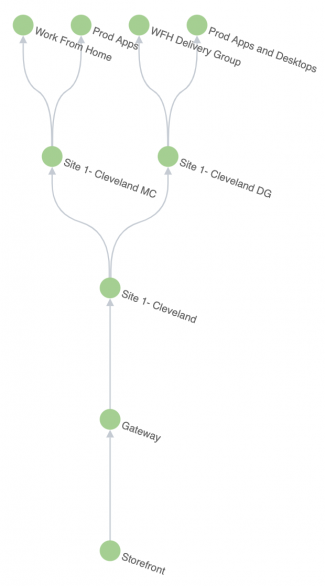 Tune correlation searches
Following the set-up of your environment, you can start creating actionable alerts. The content pack ships with the following enabled correlation searches that detect certain important events in your Citrix apps and infrastructure:
Citrix Broker DB Connection Lost
Citrix Broker DB Connection Restored
Citrix Critical Services
Citrix Netscaler Logon Failures
Citrix Netscaler Logon Success
Citrix Session Disconnect Event
Citrix Session Reconnect Event
The correlation searches create notable events in ITSI that you can manage within Episode Review. To access the searches, go to Configure > Correlation Searches. Review and tune each correlation search according to your individual environment. For more information, see Overview of correlation searches in ITSI in the Event Analytics manual.
Group events and create alerts
After you tune the correlation searches, create aggregation policies to group the events into Episodes, and set up action rules to notify the appropriate groups when certain activation criteria are met. For an overview of the entire Event Analytics workflow, beginning with notable events and ending with actionable alerts, see Overview of Event Analytics in ITSI.
---