Download topic as PDF
Download a dashboard
A user can download a dashboard as a PNG or PDF if they have access to view the dashboard. A dashboard downloaded in either format displays the entire dashboard as one image.
You can download a dashboard in View mode by clicking the Download button in the menu bar and selecting a format.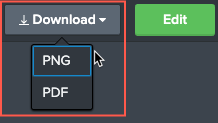 Troubleshooting
Your download does not render or only partially renders.

Make sure your searches have finished. If you try to download a dashboard while searches are still running, you'll see a confirmation message. If you continue to download the dashboard, it might not render completely.
Visualizations that depend on real-time searches will result in the same confirmation message as those searches that are still running. These visualizations will render depending on the search results at the time the dashboard is downloaded.

Visualization panels are empty.

Any visualizations that depend on data sources that return no data will appear empty.
Images that come from an external URL will not render. To ensure these images render, save them to a local directory and upload them to your dashboard.
---