Download topic as PDF
Overview of content packs and the ITSI Content Library
Splunk IT Service Intelligence (ITSI) content packs provide out-of-the-box content that you can use to quickly set up your ITSI environment. This content can include preconfigured KPI base searches, service templates, saved glass tables, and other objects for use within ITSI. For more information about ITSI, see About Splunk IT Service Intelligence in the Administration Manual.
Once installed, the objects within a content pack are completely configurable. If you want to do things like change a search's frequency, adjust latency, or change calculation methods, just edit that object directly. Most importantly, many content packs include service templates as a way to easily link one of your existing services to a predefined set of KPIs.
Most content packs process data collected through the use of Splunk add-ons. Add-ons collect host, network, and other data from computers that you install them on and map that data to a data model. Add-ons power the data underlying the metrics for each content pack. For more information, see About Splunk add-ons in the Splunk Add-ons manual.
ITSI Content Library
The ITSI Content Library is an app that lets you access content packs, preview their contents, and install them in your environment. The Content Library is compatible with ITSI version 4.8.0 and later. As new content packs become available or current ones are updated, you can download the most recent version of the Content Library to get this new content. When you install an updated version of an individual content pack, you can see which objects are new to the content pack and which have been changed.
The following image shows the ITSI Content Library: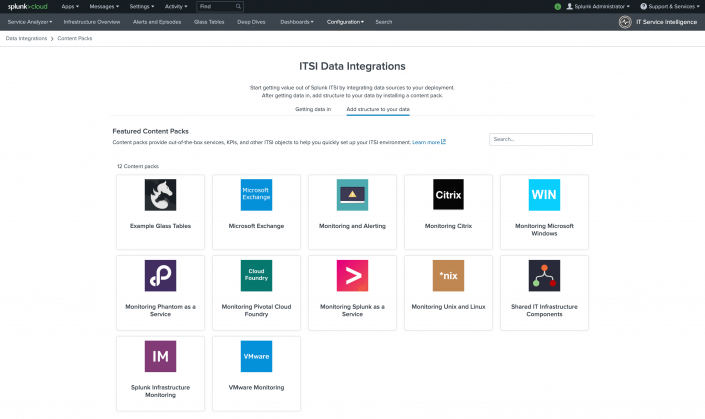 Content packs for on-premises users
The Content Library is currently only available to Splunk Cloud customers. If you have an on-premises ITSI deployment, you need to follow the original process of downloading the content pack as a backup ZIP file and restoring it using the backup/restore functionality. The ZIP files are embedded within the documentation in the installation steps of each content pack. The Content Library will be made available to on-premises customers in a future ITSI release.
Available content packs
The following content packs are available for use within ITSI:
---