Download topic as PDF
About the Content Pack for Monitoring Citrix
The Content Pack for Monitoring Citrix provides a quick way to build ITSI services to monitor your Citrix virtual apps and desktop infrastructure. The content pack includes predefined saved searches paired with data from Citrix XenDesktop technical add-ons. Use this pairing to visualize your virtual apps and desktop environment end-to-end so you can quickly find problems and understand what "normal" is. Each service template comes with predefined key performance indicators (KPIs) that provide fast visibility into your critical systems.
Once you have visibility into your CVAD environment you can add other systems for improved enterprise-wide visibility.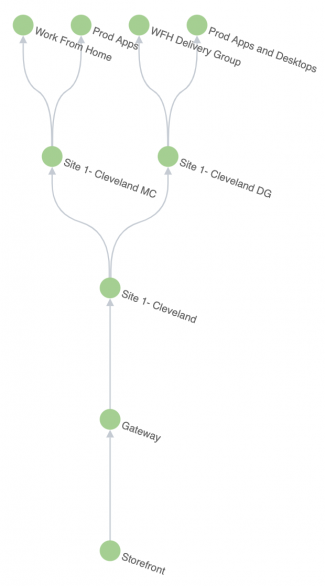 Content pack contents
This content pack contain the following four object types:
| Object | Description |
| --- | --- |
| Citrix saved searches | A series of saved searches used to discover entities and services for sites, Delivery Groups, machine catalogs, VDA, NetScaler, and StoreFront. |
| Citrix service templates | A set of service templates that you can use to create services for your Citrix virtual apps and desktop infrastructure. |
| Citrix correlation searches | A set of correlation searches configured to detect certain notable events in your Citrix apps and infrastructure, such as session disconnections and logon successes and failures. |
| Citrix KPI base searches | Key performance indicator (KPI) base searches that monitor things like StoreFront hits per minute, Delivery Group active sessions, and Gateway failed logins. |
On-premises installation
On-premises users currently need to download the embedded backup ZIP file from the installation steps in the documentation and restore it in ITSI using the backup/restore functionality. The Content Library will be made available to on-premises users in a future release. See the installation instructions for this content pack to access the ZIP file.
Deployment requirements
Use the following table to determine ITSI version compatibility with various versions of the Content Pack for Monitoring Citrix:
| Content pack version | ITSI version |
| --- | --- |
| 1.0.0 | 4.2.1 or higher |
See also
---