Download topic as PDF
About the Content Pack for VMware Monitoring
The Content Pack for VMware Monitoring provides the elements necessary to monitor the performance of the main components in a VMware vSphere environment: ESXi servers, virtual machines, and datastores. The content pack provides a set of preconfigured KPI base searches, service templates with configured thresholds, and a sample service topology tree.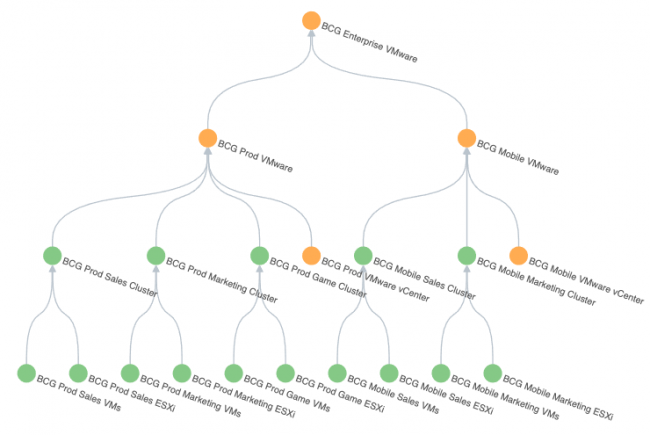 Installation
You can install the Content Pack for VMware monitoring after installing the Splunk App for Content Packs on the search head where you have installed ITSI. For installation instructions, see Install and configure the Content Pack for VMware Monitoring.
Content pack contents
This content pack contains the following objects that facilitate the entire VMware configuration process:
| Object | Description |
| --- | --- |
| VMware KPI base searches | The KPI base searches are specifically optimized for use with data from the Splunk Add-on for VMware Metrics. Each base search runs every minute with a five-minute lookback, using only the latest value on a per-entity basis. The 5-minute lookback ensures that you won't see N/A for less frequent data. The combination of "every-minute" and "latest" means that for data collected more frequently, the KPI status is updated as quickly as possible. Tune each base search to run at a frequency matching your data collection interval. |
| VMware service templates | The service templates are for ESXi servers, virtual machines, and datastores. The KPIs in the templates are tied to the VMware Metrics KPI base searches and have thresholds representing best practices. KPI thresholds are set to use Normal / Low / Medium at the aggregate level. Per-entity thresholds do not exceed Medium except for available disk space. The use of lower threshold levels for monitoring allows application-level KPIs to take a more prominent threshold level. For example, a server at 100% CPU isn't a critical issue if the apps running on that server are responding as they should. |
For the details of each object, see What's new in the Content Pack for VMware Monitoring.
Deployment requirements
Use the following table to determine ITSI version compatibility with various versions of the Content Pack for VMware Monitoring:
| Content pack version | ITSI version |
| --- | --- |
| 1.0.1 | 4.7.0 or higher |
| 1.0.0 | 4.2.1 - 4.6.2 |
Additional resources
---