Splunk MINT is no longer available for purchase as of January 29, 2021. Customers who have already been paying to ingest and process MINT data in Splunk Enterprise will continue to receive support until December 31, 2021, which is End of Life for all MINT products: App, Web Service (Management Console), SDK and Add-On.
This documentation does not apply to the most recent version of MintApp. Click
here
for the latest version.
Download topic as PDF
About the Splunk MINT App
Splunk MINT Enterprise includes the Splunk MINT App, which gives you the power of Splunk to gain operational intelligence around your mobile environment. The Splunk MINT App aggregates data from the individual mobile app projects you set up in Splunk MINT Management Console, then lets you view data for any combination of mobile apps—for example, all of your apps for a particular platform, or all of your apps that have been released, over any time range. You can correlate Splunk MINT data with other operational intelligence in Splunk for end-to-end transaction analysis.
In addition to all of the features you get with Splunk MINT Management Console, the Splunk MINT App provides a data model, set of dashboards, and the ability to search your mobile intelligence information in Splunk Enterprise. You can gather valuable insights and visibility into your mobile apps, including network performance, location, transactions, and usage.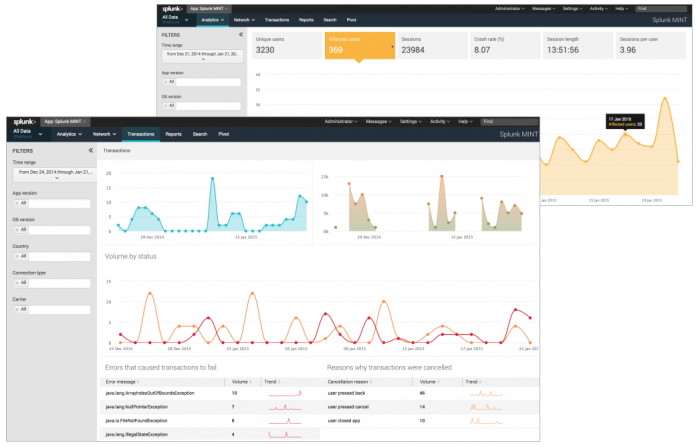 Features
With Splunk MINT you can:
Find the root causes of crashes and poor app performance
Find out which errors are occurring the most by OS, device, and app version.
Determine what users were doing when a crash occurred.
View the stack trace and instance occurrences for specific errors.
Capture LogCat and NSLog output from your devices.
View network information to analyze your system capacity
Measure latency, volume, and status codes for all HTTP calls.
Monitor specific events and transactions.
Filter information by connection type and carrier.
Follow end-to-end processes in your mobile apps to understand the user experience
Report custom-defined events in your apps.
Use transactions to follow specific tasks from start to finish.
Add breadcrumbs to your crash reports to indicate when specific actions occur.
Get insights about the usage of your mobile apps
Learn which platforms and devices are being used most.
Find out how are your apps are performing on each OS and device.
See how many users are affected by errors.
Gain insight on usage and performance by users' locations.
Correlate the performance and usage of your apps across mobile devices, web, and other channels.
How does Splunk MINT work?
Splunk MINT has several components that work together: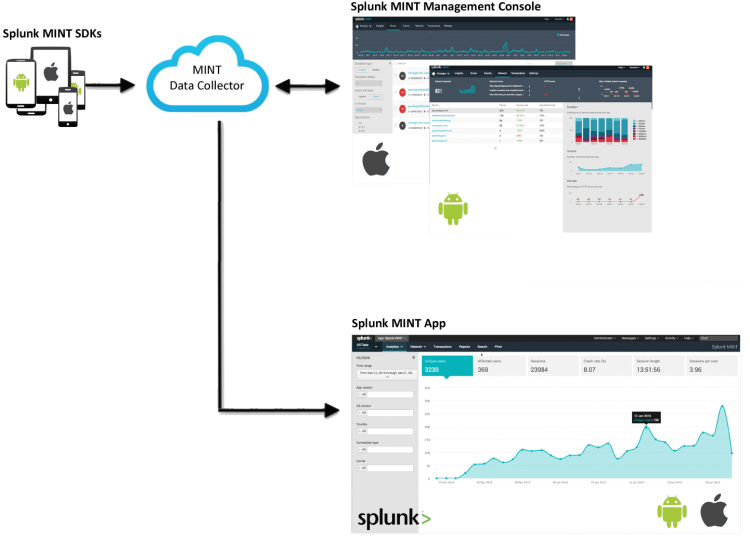 The Splunk MINT SDKs integrate MINT into your mobile apps with only one line of code. The SDKs are available for several platforms.
Mobile apps with Splunk MINT send data to the MINT Data Collector, which then forwards the data to Splunk MINT Management Console and the Splunk MINT App.
The cloud-based Splunk MINT Management Console shows you seven days of information about crashes, usage, and performance for each individual MINT project (a MINT project corresponds to one mobile app on one platform).
The Splunk MINT App in Splunk Enterprise provides dashboards, saved reports, and search functionality allowing you to view data for all of your MINT app projects together, over all time, to gain powerful insights about all channels of your organization.
For a detailed comparison, see What's the difference between the Splunk MINT Management Console and the Splunk MINT App?
How do I monitor mobile apps with Splunk MINT?
Sign up for Splunk MINT.

To get started with Splunk MINT, you must be a Splunk MINT customer. Sign up now for a free 15-day trial.

Get the Splunk MINT SDKs.

For each platform your app runs on, download the corresponding Splunk MINT SDK or plugin:
Create projects for your mobile apps in Splunk MINT Management Console.
Log in to Splunk MINT Management Console and create a project for one variation of your mobile app (a platform and release stage, such as Android/Testing, or iOS/Release). You'll get an API key and a line of code to add for that particular platform—copy it to your clipboard:

Integrate MINT into your mobile apps.
Paste the line of code that contains your API key into your mobile app code to integrate MINT. (See specific instructions for Android and iOS).
Repeat steps 3-4 for each of the mobile apps you want to monitor, creating one project for each platform/release stage combination.
Verify that MINT Management Console is displaying data from your mobile apps.
When you start using your mobile apps, they will begin to send data to the Splunk MINT Data Collector. Go back to MINT Management Console and open your mobile app projects. You'll start to see data appear in your dashboards in minutes.
Get the Splunk MINT App for Splunk Enterprise.
After you've set up your mobile app projects in MINT Management Console, use the Splunk MINT App in Splunk Enterprise to see aggregated data for all of your mobile app projects over all time.
What are the keys and tokens used by MINT?
The following table summarizes the different keys and tokens used by Splunk MINT.
| | | |
| --- | --- | --- |
| Name | What is it? | Where is it? |
| API key | Identifies a specific mobile app project and is generated for each new project you create in Splunk MINT Management Console. | On the MINT Management Console home page, one key per project. |
| API token | Identifies your Splunk MINT account, and is used to provide authentication when integrating third-party apps such as HipChat or when using the dSYM uploader script. | In MINT Management Console, under Account > Account Info. |
| Data Collector token | Authenticates your MINT account with the Data Collector, which gathers and sends data to Splunk Enterprise. | In the Welcome email you received when you signed up for the Splunk MINT App. |
What's the difference between the Splunk MINT Management Console and the Splunk MINT App?
The following table summarizes the main differences between the Splunk MINT Management Console and the Splunk MINT App.
Feature
MINT Management Console
Splunk MINT App
Data display (apps)
Displays data for a single mobile app on one platform.
Displays data for as many of your mobile apps as you want, in combinations you select.
Data display (values)
Uses sampled data that affects metrics.
Uses raw, unsampled data, so the data is more precise.
Data retention
Displays and retains data for one week (7 days).
Retains data as long as you want. You can view data for the time ranges you specify.
Data obfuscation and decoding
The data is decoded:


iOS stacktraces are symbolicated, and you can manage your dSYMs on the Settings dashboard.
For Android developers who use ProGuard, the stacktraces are decoded and mapping files are managed using ProGuard Retrace.

Indexes raw data, so iOS stacktraces are unsymbolicated and data from Android apps that use ProGuard is obfuscated.
Dashboards
Displays specialized dashboards that show you specific areas of information (such as errors and error details, events, and insights).
Provides general dashboards.
Lets you search your data using search queries to customize the data you want to see. For example, you can monitor transactions and the end-to-end process for a particular user to understand your customers' experience using your apps. You can search metadata for ad-hoc analysis of crashes, crash rates, and so forth. For more about searching MINT data, see Use the Splunk MINT App. You can also access the MINT data model for events.
Alerts
Integrates with third-party tools (JIRA, GitHub, HipChat, and Pivotal Tracker) to alert you when errors occur.
Create an alert based on any metric you want, such as a network call failure or increased latency, a crash rate in a new OS version, or a peak in usage.
How do I sign up for the Splunk MINT App and how much does it cost?
Contact your sales representative to sign up for the Splunk MINT App and to find out how much Splunk MINT plans cost.
---