This documentation does not apply to the most recent version of Splunk. Click
here
for the latest version.
Download topic as PDF
Define child objects
A child object inherits all of the constraints and attributes that belong to its parent object. When you define a new child object, you give it one or more additional constraints, to further focus the dataset that the object represents.
In the previous topic, you added a root object called "Purchase Requests" to track purchases on the Buttercup Games website. This topic takes you through steps to add child objects for tracking successful and failed purchases.
Add a child object
1. In the Buttercup Games object editor page, click Add Object and select Child.


This opens an editor window, Add Child Object.


2. Enter the Object Name: Successful Purchases
3. Enter the Object ID: Successful_Purchases
4. Under, Inherit From, select Purchase Requests.
This means that this child object will inherit all the attributes from the parent object, Purchase Requests.
5. Enter Additional Constraints: status=200
This means that the search for the events in this object, when expanded will look something like this:
sourcetype=access_* action=purchase status=200

6. Click Save.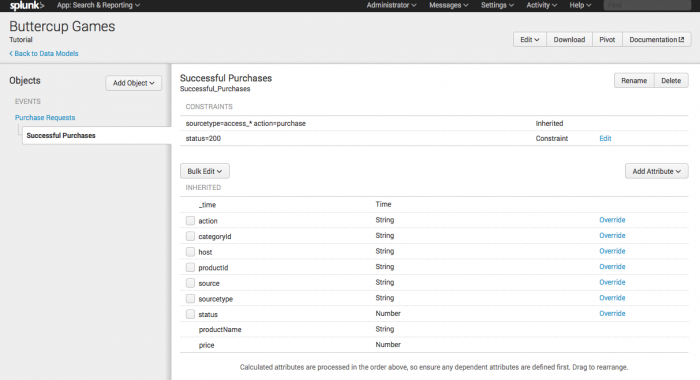 Add a second child object
Follow steps 1-6 to add another child object named "Failed Purchases", which has the additional constraint to define the status codes for failed purchases.


Failed purchases can be all status codes that are not successful, status!=200, or just the client and server error codes, status=40* OR status=50*.
This child object should also Inherit From the Purchase Requests root object.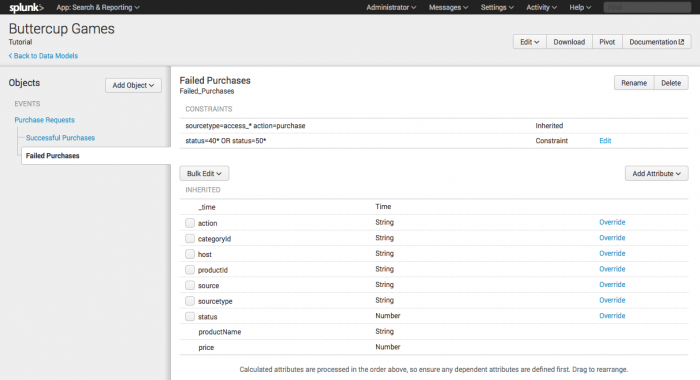 Next steps
Now that you've created data models, you can generate pivot reports. Continue to the next chapter to learn about Pivot and how to create pivot reports.
---