Download topic as PDF
About the Content Pack for Microsoft 365
The Content Pack for Microsoft 365 provides the elements necessary to collect Microsoft Office 365 data from the hosts in your server environment and monitor your various services such as the performance, availability, security, incidents, and messages across your Microsoft 365 services. The content pack provides preconfigured services with KPIs that monitor critical functions. It also includes entity types to help you group and analyze entities in your environment. The content pack also provides dashboards and executive-level metrics so that technology leaders responsible for delivering the email, calendar, and communications across their organization can visually represent the service level they're delivering.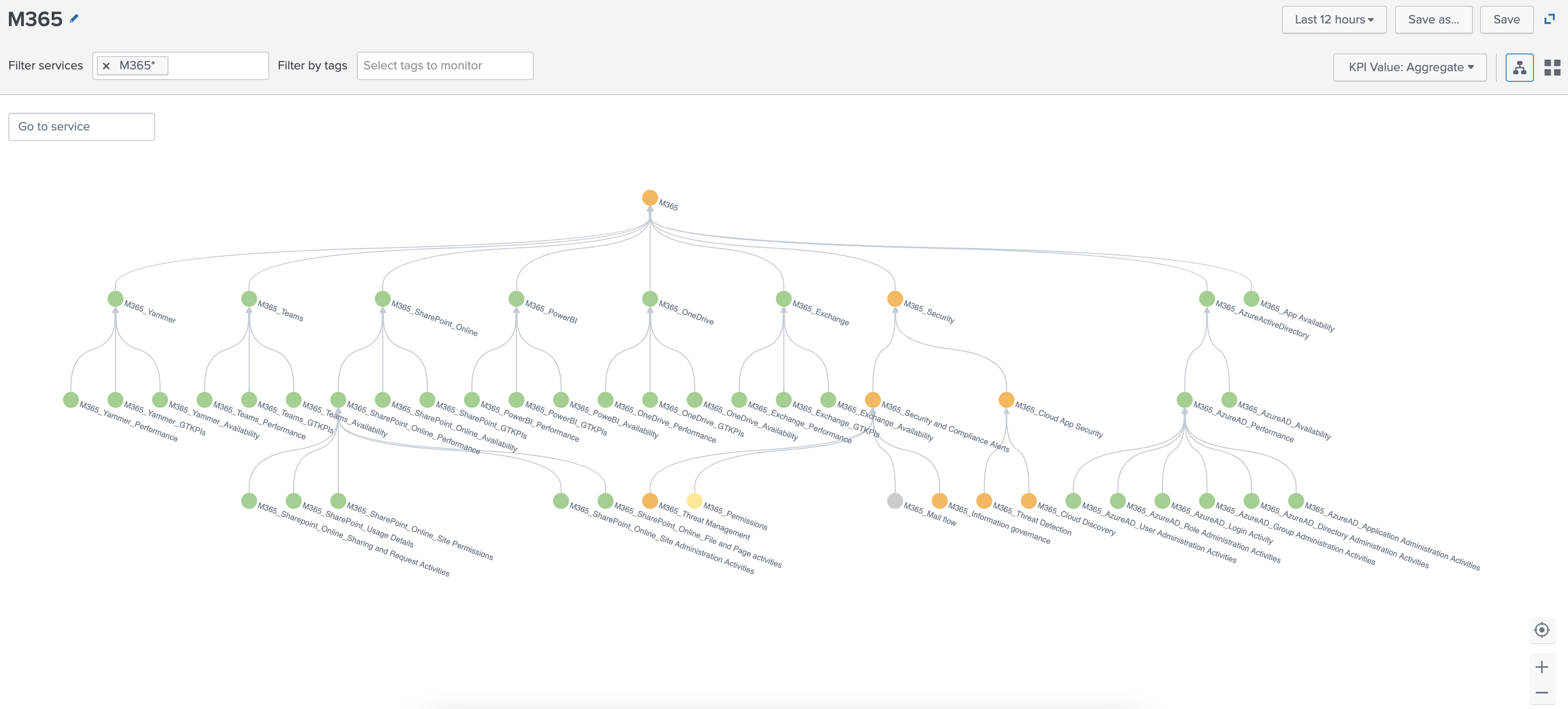 This content pack contains the following object types:
| Object type | Description |
| --- | --- |
| Services | 49+ Microsoft 365 services with over 300 KPIs configured with best practices from Microsoft and Splunk. You can disable or delete any services you don't plan to use. |
| Glass tables | 7 glass tables with different views for executive users, IT Operations analysts, or security analysts. |
| Service analyzer | A saved service analyzer view for Microsoft 365. The service analyzer provides real-time visibility into the health of your service components. |
| Entity types | Several entity types to help you group and analyze entities receiving data from Microsoft 365. |
| Dashboards | 13 dashboards for various use cases. |
Installation
To view installation instructions based on your ITSI or IT Essentials Work version, see Install and configure the Content Pack for Microsoft 365.
Deployment requirements
Use the following table to determine ITSI or ITEW version compatibility with various versions of the Content Pack for Microsoft 365.
| Splunk App for Content Packs | Content Pack for Microsoft 365 | ITSI | IT Essentials Work | Splunk Add-on for Microsoft Office 365 |
| --- | --- | --- | --- | --- |
| 2.0.0 | 1.2.0 | 4.17.x | 4.17.x | 3.0.0 |
| 1.6.0 | 1.1.0 | 4.11.x or higher | 4.11.x or higher | 3.0.0 |
| 1.5.0 | 1.0.11 | 4.9.4 or 4.11.0 | 4.9.4 or 4.11.0 | 2.1.0, 2.2.0 |
| 1.4.0 | 1.0.10 | 4.9.4, 4.11.0 | 4.9.4, 4.11.0 | 2.1.0 |
| 1.3.0 | 1.0.9 | 4.9.2 or higher | 4.9.2 or higher | 2.1.0 |
| 1.2.0 | 1.0.9 | 4.9.2 or higher | 4.9.2 or higher | 2.1.0 |
---