Download topic as PDF
Overview of the Service Analyzer in ITSI
The Service Analyzer is the home page for Splunk IT Service Intelligence (ITSI) and serves as your starting point for monitoring your IT operations. The Service Analyzer enables you to see the health of your IT environment at a glance.
The Service Analyzer provides an overview of ITSI service health scores and KPI search results that are currently trending at the highest severity levels. Use the Service Analyzer to quickly view the status of IT operations and to identify services and KPIs running outside expected norms. Click on any tile in the Service Analyzer to drill down to the deep dives for further analysis and comparison of search results over time.
There are two service analyzer views: the tile view and the tree view. You can drill down to more detailed information from each view to investigate services with poor health scores.
To access the Service Analyzer, click Service Analyzer > Default Service Analyzer from the ITSI main menu. The tile view is the default view, but whichever view you last saved loads the next time you open the Service Analyzer.
Service Analyzer tile view
The tile view is the default service analyzer view. It displays the health scores of your services and their associated KPIs. For more information about services and KPIs, see Overview of service insights in ITSI in the Service Insights manual.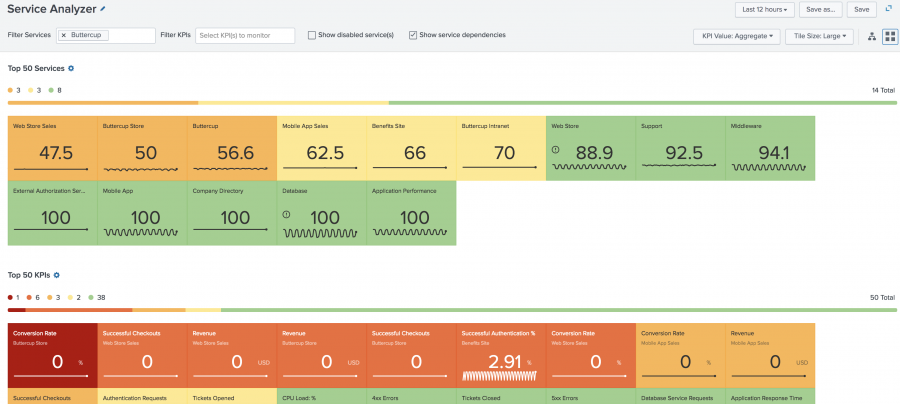 Service Analyzer tree view
The tree view displays your services graphically to provide a map of your services showing the relationships between them. The nodes are color coded to indicate severity level. You can click on a node to get more detailed information.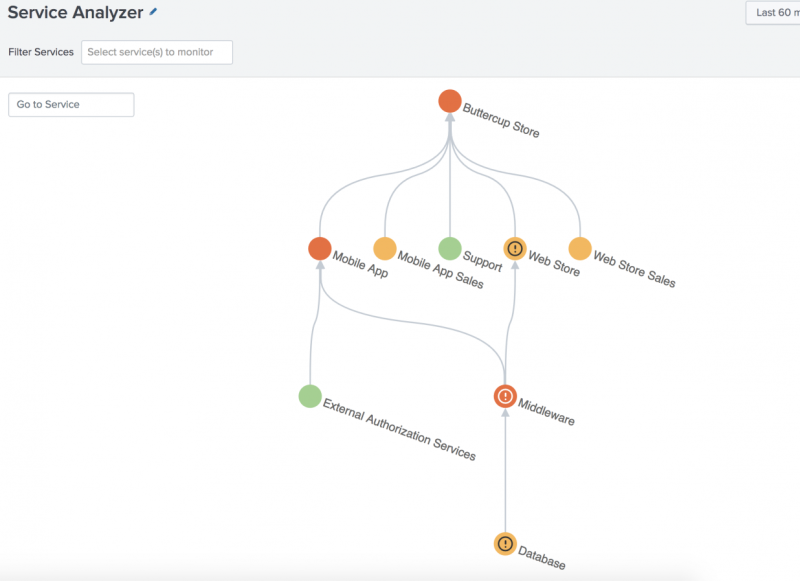 For more information about the tree view, see Use the Service Analyzer tree view in ITSI.
---