This documentation does not apply to the most recent version of Splunk
®
Machine Learning Toolkit. Click
here
for the latest version.
Download topic as PDF
Manage models
The Models page presents the models in your Splunk Machine Learning Toolkit in list form. You will only see the models that you have permission to see. To view this page, click Models on the MLTK navigation bar.
In the displayed row(s), you can see what types of models are present, who owns them, and how they are shared.
Click the > symbol in the first column to expand the row. and view model details including:
Date last modified
Algorithm used
Fields used when training the model
Model owner
Sharing settings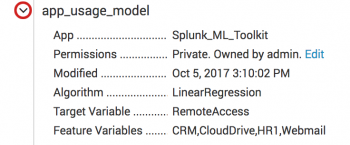 Manage model permissions
Change model permissions to change their availability to other users. You can set up read and write access by role, and you can make models globally accessible, restricted to a particular app context, or private to a single user. For more information about model permissions, see Namespacing and permissions.
By default, only the Power and Admin roles can set permissions for models.
Modify permissions for a model in the Splunk Machine Learning Toolkit app:
Click Models on the MLTK navigation bar.
On the Models page, select the model that requires permission edits.
Click the current permission (Private, App or Public) in the Sharing column. This will only be editable if your current user has permission to edit that model.
In the resulting Edit Permissions window make your changes and click Save.
Under the tab, you will only see models created using the fit command on the Search tab, or those made through the classic layout of the guided modeling assistants under the Classic tab. You will not see models that were created within the framework of an Experiment.
Delete models
You can also delete models through the Models page:
Click Models on the MLTK navigation bar.
On the Models page, select the model that needs deletion.
Click Delete in the Actions column.
In the Delete Model window, click Delete again to verify that you want to delete the model.
---