This documentation does not apply to the most recent version of ODBC. Click
here
for the latest version.
Download topic as PDF
Installation Prerequisites
The Splunk ODBC Driver is currently available for Windows only.
You must install the Splunk ODBC Driver on the Windows PC that runs the application you want to use it with (Excel or Tableau). However, it does not need to be installed on the computer that is running Splunk Enterprise.
Though running the Splunk ODBC Driver and Splunk Enterprise on the same Windows PC is a supported configuration, you can use the Splunk ODBC Driver to connect to Splunk Enterprise running on any supported platform, including Linux, OS X, Solaris, and so on.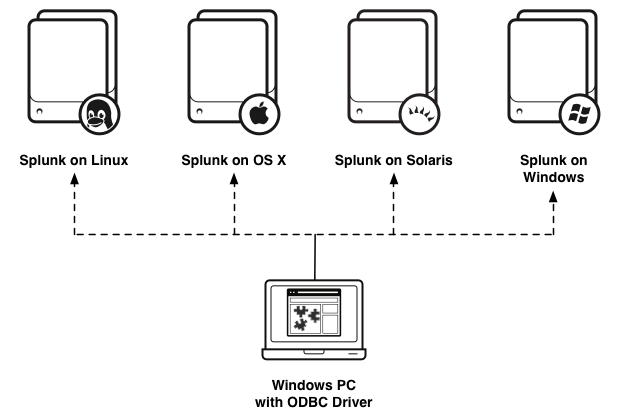 To install the Splunk ODBC Driver, you need the following components.
Splunk computer:
Splunk Enterprise 5 or later running on any supported operating system
Client computer (running Splunk ODBC Driver):
Important: The Splunk Enterprise computer and the client computer can be the same computer.
---