This documentation does not apply to the most recent version of Splunk
®
Service Intelligence for SAP
®
Solutions. Click
here
for the latest version.
Download topic as PDF
Overview of Splunk Service Intelligence for SAP Solutions
| | |
| --- | --- |
| Version | 2.2.1 |
| Vendor Products | SAP, ABAP, and Java Applications |
Splunk Service Intelligence for SAP Solutions is a comprehensive out-of-the-box solution that provides proactive, end-to-end monitoring of your Systems, Applications, and Products (SAP) environment. It gives you the ability to monitor various infrastructure elements that run SAP and the application components that connect to it, as well as the system's underlying infrastructure. Use this app with the monitoring capabilities in Splunk IT Service Intelligence (ITSI) to quickly and proactively detect problems in your SAP environment, enabling you to reduce issues and avoid costly outages.
Download Splunk Service Intelligence for SAP Solutions from Splunkbase.
The following image shows the final service topology view for an ABAP SAP instance in ITSI after you install and configure the app: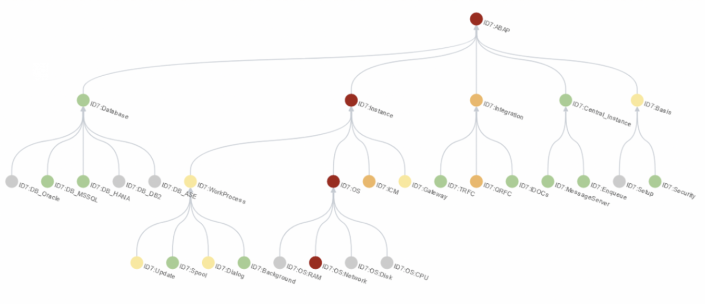 This manual guides you through the process of ingesting SAP data into Splunk Enterprise and converting the elements of your SAP system into ITSI services.
System requirements
Review the following requirements before you deploy Service Intelligence for SAP Solutions:
| Service Intelligence for SAP Solutions | Splunk Enterprise | ITSI | PowerConnect ABAP Add-on | PowerConnect Java Add-on | SAP PowerConnect for Splunk |
| --- | --- | --- | --- | --- | --- |
| 2.2.1 | 8.1.x, 8.2.x, 9.0.x | 4.13.x and later | 6.04 | 6.04 | 6.8.0, 6.9.0 |
| 2.2.0 | 8.1.x, 8.2.x, 9.0.x | 4.11.x and later | 6.04 | 6.04 | 6.7, 6.8, 6.9 |
| 2.1.3 | 8.0.x, 8.1.x, 8.2.x | 4.10.x, 4.11.x | 6.04 | 6.04 | 6.5, 6.6, 6.7 |
---