Download topic as PDF
Mapping data
There are several options for visualizing data that includes geographic information.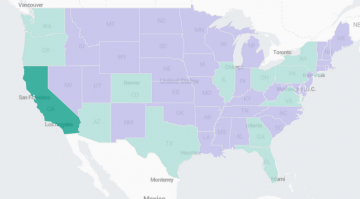 A Choropleth map uses shading to show relative metrics, such as population or election results, for predefined geographic regions. You can also create other visualizations with geographic data, such as cluster maps or charts.
Getting started
Use the following topics to learn about creating Choropleth maps and other geographic visualizations.
See also
To learn about geospatial lookups, see Configure geospatial lookups in the Knowledge Manager Manual.
Last modified on 07 August, 2019
---