This documentation does not apply to the most recent version of AddonBuilder. Click
here
for the latest version.
Download topic as PDF
Name Project
In the Name Project section, specify the basic properties for your add-on project to determine how the add-on appears in Splunk Web.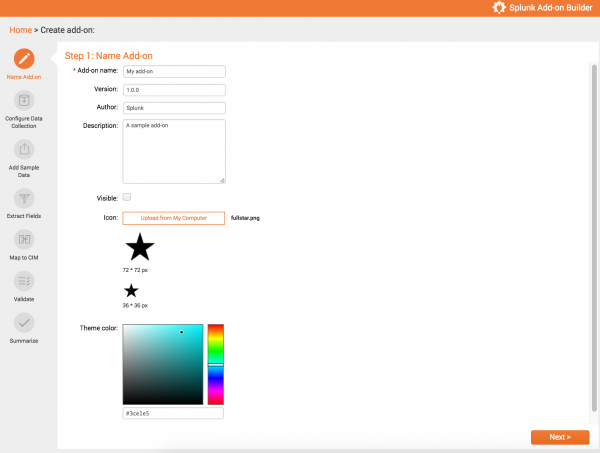 Set the following properties for your project:
| | |
| --- | --- |
| Add-on name | The name of the add-on. This name, with the "TA_" prefix and "_" instead of spaces, is also used as the app's folder name under $SPLUNK_HOME/etc/apps/. |
| Version | The version number of the add-on, which appears with the add-on in Splunk Web. |
| Author | The author name, which appears with the add-on in Splunk Web. |
| Description | The description of your add-on. |
| Visible | Indicates whether you want the add-on to be visible in the Splunk Web app list. By default, add-ons are not visible. |
| Icon | Upload an image file to use as the icon for your add-on. The Add-on Builder creates a large version (72x72 pixels) and a small version (36x36 pixels) of the icon from this image. |
| Theme color | The color to use for your add-on. |
Click Next to save your settings and continue to the next step. If you edit certain settings later (such as renaming the add-on or changing properties for visibility or theme color), you are prompted to restart Splunk Enterprise to load your changes.
---