Download topic as PDF
Create a new lookup in the Splunk App for Lookup File Editing
The Splunk App for Lookup File Editing provides an Excel-like interface for editing, importing, and exporting KV store and CSV-based lookup files.
Perform the following steps to create a new lookup in the app:
Log into Splunk Web.
From the Apps listing, select the Splunk App for Lookup File Editing.
On the resulting Lookups tab, choose the New Lookup tab, or the Create New Lookup button on the right of the screen. The button provides the choice of a KV store or CSV lookup. This example uses the New Lookup tab.
From the New Lookup tab, choose to create a CSV or KV store lookup. This example selects CSV.
On the New Lookup page, click the Import button. From the resulting window you can upload your CSV file or drag and drop.
Once imported, right click anywhere within the table to make edits. Select the User-only box to keep the lookup private.



CSV files can only use one cell delimiter in order to properly import and separate your data into columns. If your data is not separating into columns correctly, check the CSV for values such as semicolons or pipes that may be misidentified as delimiters.

Using the keyword of high, medium, or low will color code the corresponding fields.

Click Save Lookup when done.
Follow similar steps when creating a new lookup from the KV store. The New Lookup page has a slightly different user interface.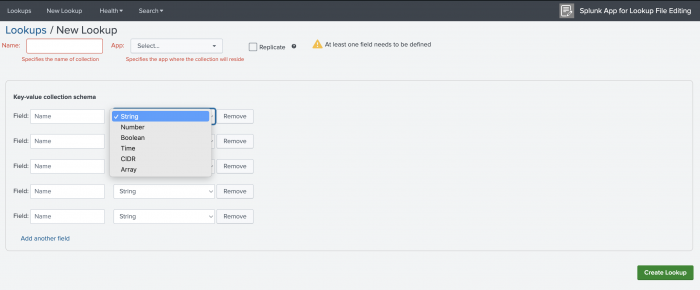 ---