On October 22 2021, the Splunk App for Microsoft Exchange will reach its end of life. After this date, Splunk will no longer maintain or develop this product. The functionality in this app is migrating to a content pack in Data Integrations. Learn about the
Content Pack for Microsoft Exchange
.
This documentation does not apply to the most recent version of MSExchange. Click
here
for the latest version.
Download topic as PDF
Message Activity by Domain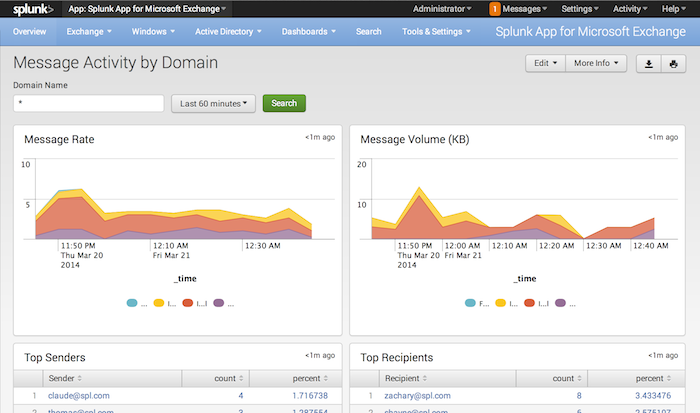 This page provides insight into the usage patterns of a single domain that your Exchange network has sent e-mail to or received e-mail from.
The page has line charts that display message rate (in messages per minute) and message volume (in kilobytes per second).
The page also has "Top Senders" and "Top Recipients". These panels display information about a particular domain's interactions with your Exchange network. The results that these panels display are specific to the domain that you specify.
How to use this page
To specify a domain, enter that domain in the "Domain" text box at the top of the page, set an appropriate time period using the time range picker, then click "Search". The Splunk App for Microsoft Exchange updates the page with the selected domain's message activity.
If you click on a node in either of the line charts, the Splunk App for Microsoft Exchange brings up the base search that produced the events at that point in time, along with the events that occurred at that point.
To learn about the activity between the domain and the e-mail addresses in your organization that exchanged e-mail with most frequently, click the e-mail address in the "Top Senders" or "Top Recipients" lists. The Splunk App for Microsoft Exchange loads the "Message Activity by User" page for the selected e-mail address.
---