Splunk Phantom 4.10.7 is the final release of Splunk's Security Orchestration, Automation, and Response (SOAR) system to be called Splunk Phantom. All later versions are named Splunk SOAR (On-premises). For more information, see the
Splunk SOAR (On-premises) documentation
.
Download topic as PDF
Mark files and events as evidence in Splunk Phantom
When you discover information that's critical to your conclusions, you can mark it as evidence in your investigation. Evidence can include files, artifacts, action results, events, and notes. Tagging evidence helps to separate general information from information that's directly related to diagnosing an incident. All evidence appears on the Evidence tab within an investigation.
Mark a file as evidence
Perform the following steps to mark a file as evidence:
Navigate to a container in Splunk Phantom.
Click Analyst to change the container to analyst view.
Click the Files tab.
Click the ... button for the file.
Select Mark as Evidence.
Click Confirm.
Mark an event as evidence
To mark an event as evidence, select Mark as Evidence when adding the event to a case. For more information about adding events to cases, see Add objects to a case in Splunk Phantom. The following screenshot illustrates how to mark an event as evidence.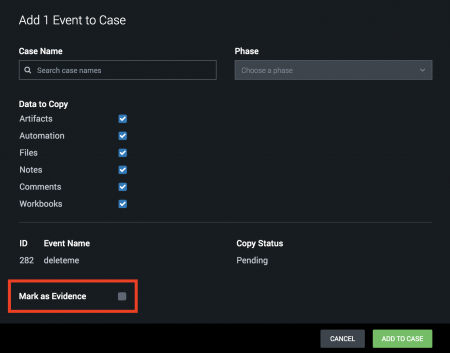 When you add an event to an existing case, it copies all the data from the existing event into the case you're adding it to while also maintaining the original event data. The information on the Evidence tab is a copy of the original event, not the actual event.
---