This documentation does not apply to the most recent version of Splunk. Click
here
for the latest version.
Download topic as PDF
Manage jobs in Splunk Web
As the admin user, you can manage jobs run by all other users on the system. You can access these jobs through the Jobs manager in Splunk Web.

Note: The number of jobs shown in parentheses next to the Jobs link is the number of jobs that the user you're logged in as is currently running, not the number of jobs running on the system as a whole, even if you're logged in as admin.
The Jobs manager launches a pop-up window showing all the jobs currently running on the system.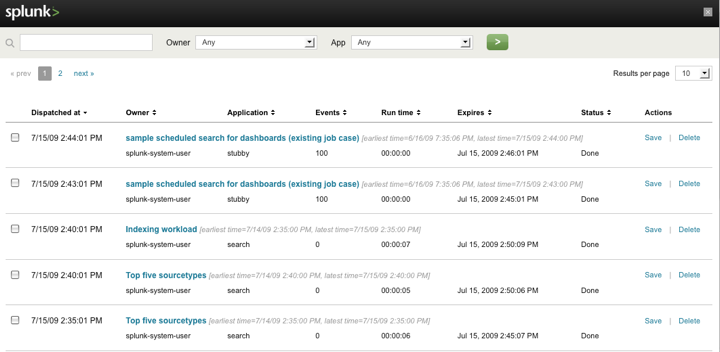 Use the controls to save, pause, delete, resume, delete, and finalize jobs on the system. Select the checkbox to the left of the item you want to act on, and click the relevant button at the bottom of the page.
Unsaved search jobs expire within a set period of time after they complete. This means that the artifacts (including their results) are removed from the filesystem and cannot be retrieved unless you've explicitly saved the job.
The default lifespan for manually run search jobs is 15 minutes (search jobs resulting from scheduled searches typically have much shorter lifespans). The Expires column tells you how much time each listed job has before it is deleted from the system. If you want to be able to review a search job after that expiration point, or share it with others, save it.
---