This documentation does not apply to the most recent version of Splunk. Click
here
for the latest version.
Download topic as PDF
Overview of data preview
Splunk Web's data preview feature offers a powerful way to improve event processing. You can use it to make sure that your data is indexed exactly as you want it to appear.
Data preview lets you see how your indexed data will look, while also allowing you to easily make adjustments to improve the outcome. It runs a subset of your data through the normal indexing process but, unlike normal indexing, it does not commit the resulting events to an index. During data preview, you can adjust and improve the indexing process interactively, so that, when incoming data is indexed, your event data is formatted exactly as you want it to be.
Here's an example of the main data preview screen: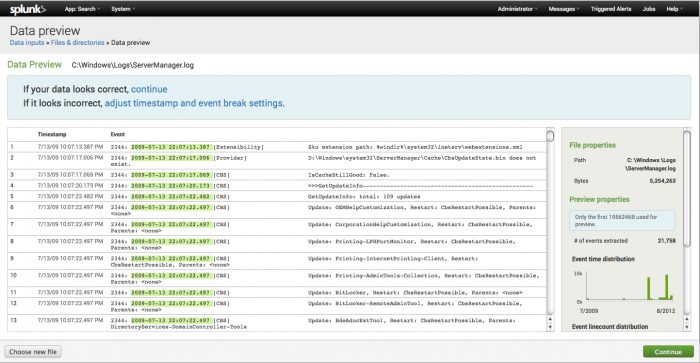 During data preview, you can adjust how timestamps and event breaks are rpcoessed. Once you're satisfied with the results, you can save your changes as a new source type, which you can then apply to your actual data. See "Data preview and source types" for details.
Data preview operates on single files, but with a bit of planning you can also preview data from network or directory inputs. See "Prepare your data" for details.
Note: Data preview is implemented as a Splunk app and is enabled at start-up.
---