This documentation does not apply to the most recent version of Splunk. Click
here
for the latest version.
Download topic as PDF
Review the scenario and set a goal
Learn how to create a dashboard to monitor suspicious website activity.
Scenario
This scenario is based on typical IT operations and security monitoring use cases. Trace hacker activity using failed login attempts and IP addresses. Monitor top hacker locations and targeted user accounts.
---
Goal
Build a dashboard to help you monitor hacker activity at a glance. This scenario shows you how to create a dashboard like this one.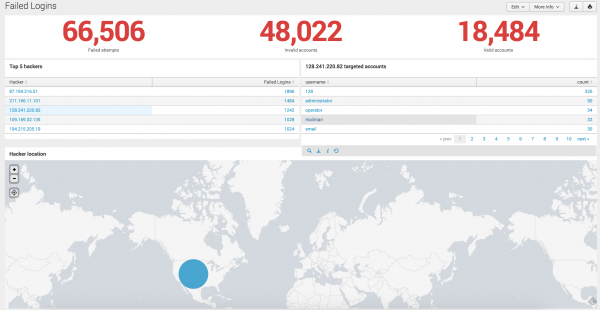 This dashboard shows crucial information.
Failed login attempt counts for valid and invalid accounts.
Top five hacker IP addresses linked to failed login attempts.

The dashboard also includes interactive features.
A dynamically populated list of user accounts targeted by a selected hacker.
A dynamically plotted map showing a selected hacker's location.
---
Steps
Move through these steps to reach the goal.

---
Prerequisites
Before moving to the next step, make sure that you have the following resources.
A running Splunk platform instance


Tutorial sample data

Download the tutorialdata.zip file.
Use one of the following options to upload the tutorial data into the Splunk platform instance before proceeding.



Instance type
Next steps

Splunk Enterprise
Self-service Splunk Cloud deployment

Follow these tutorial upload instructions to import the data into the Splunk platform.

Managed Splunk Cloud deployment

File a Support ticket requesting the data upload.
Once you have the prerequisites in place, go to the next step to start working with the data.
---