On August 31, 2022, the Splunk App for VMware will reach its end of life. After this date, Splunk will no longer maintain or develop this product. The functionality in this app is migrating to a content pack in Data Integrations. Learn about the
Content Pack for VMware Dashboards and Reports
.
This documentation does not apply to the most recent version of VMW. Click
here
for the latest version.
Download topic as PDF
Collection Configuration
Use the Collection Configuration dashboard to configure data collection settings for the Splunk App for VMware.
This is an administration dashboard with restricted access to users of the Splunk App for VMware who have administration privileges. If you do not have these privileges, then you cannot access this dashboard.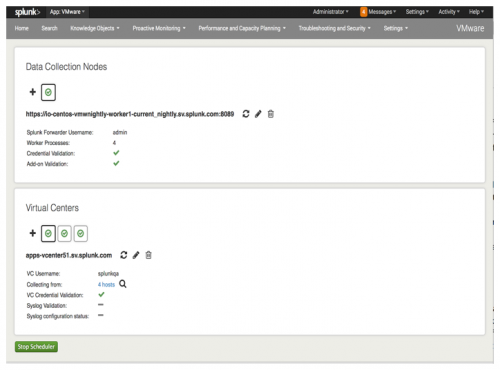 Using this dashboard you can:
Add data collection nodes and VMware vCenter Servers to the scheduler configuration.
Start the Distributed Collection Scheduler to collect data from your VMware vSphere environment.
Configure the collection of data from specific hosts systems.

For information on how to set up a data collection node, see "Deploy OVA to create a Data Collection Node" in the Splunk App for VMware Installation Guide.
---