This documentation does not apply to the most recent version of AddonBuilder. Click
here
for the latest version.
Download topic as PDF
Use the add-on
After you download the add-on package you created using Splunk Add-on Builder, you can use this add-on to get related data in.
From the Splunk Web home page, click the name of the add-on in the left navigation panel.
Click Configuration.
The following example demonstrates how to set up and configure a data input in an add-on created by Splunk Add-on Builder. The example add-on requires an account and password for the data source, and uses checkpointing
Set up the add-on
Account settings

Create a account with a unique name in the Account field.
Enter the Username and Password of the account which you want to get data from.
Proxy settings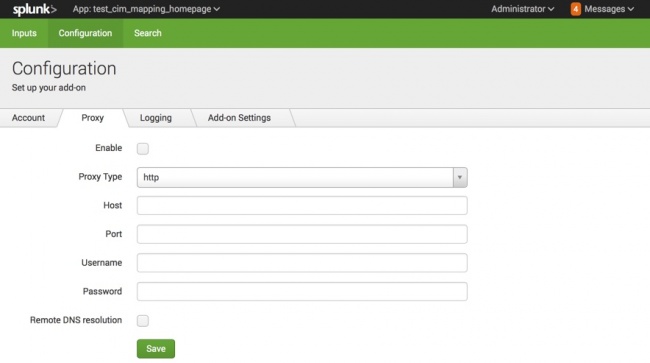 If you are using a proxy, check Enable and fill in the required fields. If you do not use a proxy, skip this section.
Select the type of proxy to use in the Proxy Type field.
Provide the proxy server address in the Host field.
Provide the proxy server port in the Port field. For example: 8081.
Provide a proxy username if you have one in the Username field.
If you provided a proxy username, type the proxy password in the Password field.
Check the Remote DNS resolution box if you want to perform DNS resolution through your proxy.
Logging Settings

If you want to change the Log level, select a new level from the drop down menu.
Configure inputs

After you set up the add-on, you can configure the inputs to collect data via Splunk Web. Click Create New Input in the Inputs tab and configure the following.
Enter a Name, Interval and Index.
Name: The name of the input.
Index: The index in which you want the Splunk platform to store indexed data.
Interval: The number of seconds to wait before the Splunk platform runs the command again.
Choose the Checkpoint type and enter the checkpoint value. If you need more details on setting modular input checkpoints, see Data checkpoints in Developing Views and Apps for Splunk Web.
Checkpoint type: There are two checkpoint type, Auto and File.

If you choose Auto, the checkpoint file will be saved in the KVstore.
If you choose File, the checkpoint file will be saved under folder $SPLUNK_HOME$/var/lib/splunk/modinputs

Restart the Splunk platform after configuring the inputs
---