This documentation does not apply to the most recent version of Splunk
®
Data Stream Processor. For documentation on the most recent version, go to
the latest release
.
Download topic as PDF
Data sources and destinations
The can collect data from and send data to a variety of locations, including databases, monitoring services, and pub/sub messaging systems. The location that DSP collects data from is called a "data source", while the location that DSP sends data to is called a "data destination".
Each type of data source or destination is supported by a specific DSP function. For example, you must use the Splunk forwarders source function to receive data from a Splunk forwarder, and use the Amazon Kinesis Data Streams sink function to write data to a Kinesis stream. Functions that provide read access to data sources are called source functions, while functions that provide write access to data destinations are called sink functions.
Some sink functions are only available if you're using a Universal license for DSP. Specifically, the following sink functions require the Universal license:
See Licensing for the in the Install and administer the Data Stream Processor manual for more information.
The following diagram summarizes the data sources and destinations that DSP supports, and identifies the data destinations that require a Universal license: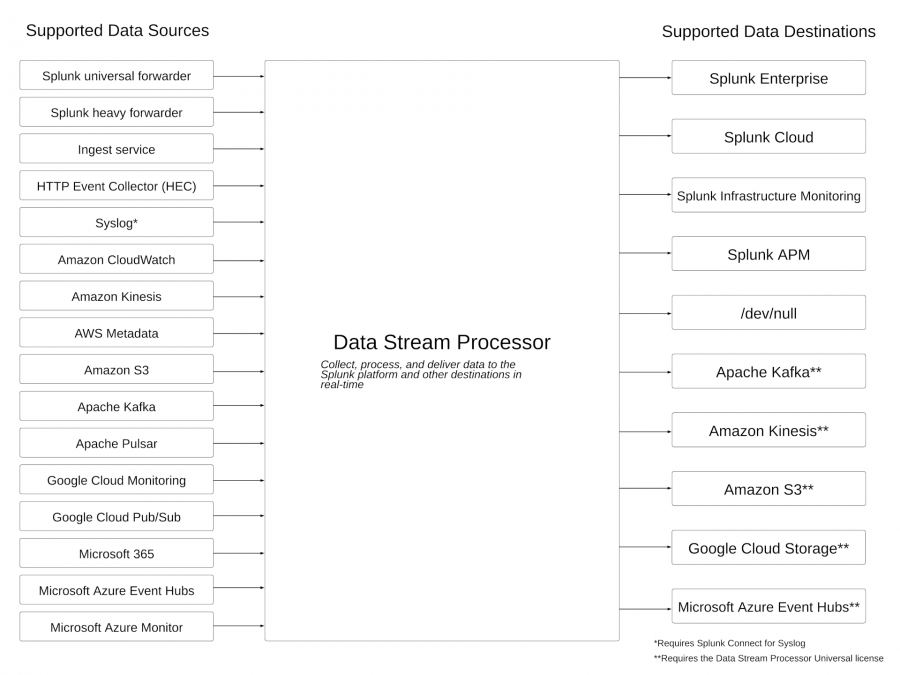 ---